Top Online Casinos
Casinos and Gambling Facts
Croatia is a country in Eastern Europe with legal gambling. There are 10 cities with gambling facilities in Croatia which have 15 legal gambling facilities available in total.

The types of gambling available in Croatia are: casinos, sportsbetting parlours.

The largest gambling city in Croatia is Zagreb with 5 gambling facilities, 21 tables games, 325 gaming, slot, and video poker machines.
The largest casino in the entire country of Croatia is Miro Hotel and Casino Minera which is located in Plovanija. Miro Hotel and Casino Minera has 32 table games, 2 poker tables, 250 gaming and video poker machines.
Visit Pagat to view a complete list of card games played in Croatia.
Croatia Casino Stats
| | |
| --- | --- |
| Casinos: | 15 |
| Cities with Gambling: | 10 |
| Sportsbetting Parlours: | 4 |
| Casino Hotels: | 3 |
| Venues: | 7 |
| Restaurants: | 7 |
| Table games: | 129 |
| Slot machines: | 1,210 |
| Poker tables: | 24 |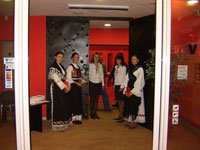 Croatia Casino Jobs
Full Croatia Casino Jobs
All employment decisions are made without regard to race, color, age, gender, gender identity, sexual orientation, religion, marital status, pregnancy, national...
Specific vision abilities required by this job include close vision, distance vision, color vision, peripheral vision, depth perception and the ability to...
Maintains overall cleanliness and appearance of designated area of responsibility. Performs the breakdown of events including cleaning tables and returning all...
Proactively keeps known cheats and blacklisted patrons off the property. Always responds to fire alarms and other emergencies within the property ensuring...
Deal game efficiently and accurately while creating an atmosphere of hospitality and friendliness toward guests and Team Members....
Croatia Rating
Croatia Gambling