Top Online Casinos
Casinos and Gambling Facts
Croatia is a country in Eastern Europe with legal gambling. There are 10 cities with gambling facilities in Croatia which have 15 legal gambling facilities available in total.

The types of gambling available in Croatia are: casinos, sportsbetting parlours.

The largest gambling city in Croatia is Zagreb with 5 gambling facilities, 21 tables games, 325 gaming, slot, and video poker machines.
The largest casino in the entire country of Croatia is Miro Hotel and Casino Minera which is located in Plovanija. Miro Hotel and Casino Minera has 32 table games, 2 poker tables, 250 gaming and video poker machines.
Visit Pagat to view a complete list of card games played in Croatia.
Croatia Casino Stats
| | |
| --- | --- |
| Casinos: | 15 |
| Cities with Gambling: | 10 |
| Sportsbetting Parlours: | 4 |
| Casino Hotels: | 3 |
| Venues: | 7 |
| Restaurants: | 7 |
| Table games: | 129 |
| Slot machines: | 1,210 |
| Poker tables: | 24 |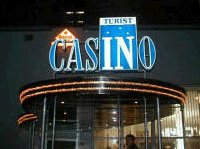 Croatia Casino Jobs
Full Croatia Casino Jobs
Under general supervision of the Assistant Security Manager, oversees the security officers and ensures the safety and protection of casino patrons, employees,...
Ability to work varied shifts, including weekends and holidays. Must have a working knowledge and understanding of casino programs and offers and must...
Monitors all financial activities on property, which relate to the Cage area, to ensure that all applicable laws, rules, regulations and controls of the...
Mandatory Drug Testing AND Background Checks for all employees. Weekdays, weekends and holidays, 20 (daily) and 24 hours (holiday)....
Under general direction from the F & B Supervisor, maintains an efficient and profitable restaurant operation by providing prompt and courteous food service to...
Croatia Rating
Croatia Gambling