Paraguay Casinos
Paraguay Casino List

Features:
American Roulette, Baccarat, Blackjack, Caribbean Stud Poker, French Roulette, Poker, Punto Banco, Attractions, Accommodations
BOOK NOW
Resort Yacht Y Golf Club Paraguayo
Casinos and Gambling Facts
Paraguay is a country in South America with legal gambling. There are 3 cities with gambling facilities in Paraguay which have 3 legal gambling facilities available in total.

The types of gambling available in Paraguay are: casinos.

The largest gambling city in Paraguay is Asuncion with 1 gambling facilities, 18 tables games, 80 gaming, slot, and video poker machines.
The largest casino in the entire country of Paraguay is Hotel Resort Casino Yacht and Golf Club Paraguay which is located in Asuncion. Hotel Resort Casino Yacht and Golf Club Paraguay has 18 table games, 2 poker tables, 80 gaming and video poker machines.
Top Online Casinos
Paraguay Casino Stats
| | |
| --- | --- |
| Casinos: | 3 |
| Cities with Gambling: | 3 |
| Casino Hotels: | 1 |
| Table games: | 40 |
| Slot machines: | 168 |
| Poker tables: | 8 |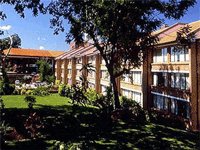 Paraguay Casino Gambling Review
Paraguay Casino & Gambling Scene
Paraguay is a wonderful destination for gambling. The casinos here are well visited by locals and tourists who crowd for the thrill of the game. While the region is a small geographical area over 153,398 sq mi., it does have a few casinos for all those who love the game.
Casinos in Paraguay
The main casinos of Paraguay are located in Asuncion which is the capital city and the largest city in area too. This city has two casinos that are well visited for the range of games they offer to the tourists. These include Blackjack, Roulette, Slot machines, Card games and other game tables. One of the star attractions of Paraguay, Hotel Resort Casino Yacht and Golf Club is located in Asuncion. Other casinos are present in the cities Ciudad Del Este and San Bernardino.
Pari-mutuel gambling activities in Paraguay
While the world statistics for pari-mutuel wagering stand at $116 billion, the major chunk of income in South America comes from thoroughbred racing. Among all South American countries, Paraguay does not offer much to racetrack enthusiasts; but one can always participate in off track betting. However, avenues are open at certain places, and you can find out the right places for Jai alai, greyhound racing and thoroughbred horseracing. One of the casinos that offer these sports is "Federación Dominicana de Pelota Vasca". Betting is quite popular in Paraguay. Though considered illegal in most of the places, yet 'Lotteries' is also a popular game in this country.
Paraguay Poker & Texas Holdem
The game of Poker is played and enjoyed in many pockets of Paraguay. This country offers Poker in most of its casinos. The casinos in Asuncion, the capital city, offers 2 to 3 tables dedicated to the game. Poker tournaments are regular events in Paraguay. Both local people and tourists participate in those tournaments with high enthusiasm. The games of Holdem and Stud Poker are well played and enjoyed in most parts of Paraguay. Many Poker enthusiasts will find Paraguay to be a nice place to throw a few cards around and play toe game. You can check out major casinos like "Yacht and Golf Club Casino" for an entertaining round of Caribbean Stud and other Poker games.
Gambling Law in Paraguay
Strict regulations have been set in place to govern about gambling tables, gambling devices and of course the rules of the game. These rules are followed in legal joints only, and tourists new to the region are advised to play at these places after a little research. However, most of the casinos in Paraguay and other parts of South America are quite good and the officials and staff are friendly. The locals are a friendly lot too and you will not face any trouble in locating the good casinos you wish to visit.
Paraguay Casino Jobs
Full Paraguay Casino Jobs
Properly use equipment, tools or systems to complete assigned tasks and complies with company safety standards....
Specific vision abilities required by this job include close, distance, color, and peripheral vision, depth perception and ability to adjust focus....
Must be available to work all shifts, holidays and weekends. Employment selection will be made in accordance with the Hannahville Indian Community's Tribal...
Pre-employment drug testing is required for all positions and you must obtain and maintain a gaming license from the Snoqualmie Gaming Commission....
Assist customers in understanding the rules and ensure adherence to established policies and procedures....
Paraguay Rating
Places to Gamble in Paraguay
Asuncion casinos (1)
Ciudad del Este casinos (1)
San Bernardino casinos (1)
Paraguay Gambling