Newest casinos
Oct 27


2015

Cotai, Macau
May 27


2015

Cotai, Macau
Sep 21


2012

Macau, Macau
Apr 11


2012

Cotai, Macau
May 15


2011

Cotai, Macau
Macau Casino & Gambling Overview
Currently, Macau, China (also known as Macao) is the home to some of the world's most incredible casinos, and as a gambling destination it pulls in more money than any other casino city on earth. Superb architecture, fine dining, exciting night life and luxury accommodations compliment it's over forty casinos (skip to casino list). Many of the casinos are hosted in either luxury hotels or are full blown all-inclusive casino resorts. Macau is the only place in China with legal casinos and gambling. It is as they say "The Vegas of Asia," but as many Asians would correct you, actually "Las Vegas is the little Macau of North America." Whatever the case may be, Macau is an incredible place both for gambling, entertainment and even history.
The very brief history of Macau
Macau is an ex Portuguese colony and its historically been a den for pirates and a place of gambling and excess. In fact, gambling has been legal here since 1847 and has gone on long before that. In 1962 the government granted STDM (now SJM Holdings) a monopoly to operate all gambling. These are the casinos that are commonly thought of as "Stanely Ho" casinos, because he is the President of SJM and effectively controls them. In 1999 when control of Macau was passed back to the Chinese government from Portugal it was setup as a SAR, or special administrative region; the first being Hong Kong. In 2001 the SJM license had expired and in 2002, Macau made the plunge and began allowing foreign companies into the country to operate casinos. Let the fun begin! Interested in a more complete history lesson? Click here for Macao History.
The location and geography of Macau
For those who have never been to Macau, there are two main districts for casino gaming, the actual City of Macau and the Cotai Strip. You can find basic gaming clubs, mostly Mocha casinos, in other cities around Macau. Macau proper is a pennisula and the Cotai Strip is on the island of Taipa, actually it is built completely on reclaimed land (see the video on the right title "The Cotai Strip ~ Macao (part 1) - its really amazing. In total, Macau is only of 11.39 square miles (29.5 km²). All of Macau, (Coloane, Taipa, Cotai and Macau) are connected by beautiful bridges, and tunnels into mainline China. You can get a bit of a feel for the layout of things from the map of Macau, here.
For a good idea of what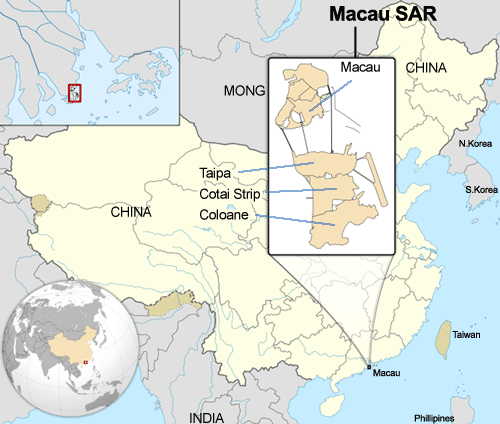 Macau looks like, we suggest our Macau photo gallery. Since Macau is a special administrative region (SAR) of China, it plays by its own rules - and casinos rule the landscape here. There is only one other Chinese SAR and that is Hong Kong, which you can easily reach using the turbojet ferries. A ride to Hong Kong is only about 45 minutes. Or the other hand, if you're visiting Hong Kong and want some casino excitement, just hop on the ferry to Macau.
Gamblers from Hong Kong, Taiwan and other locations in Asia can reach Macau in a relatively short period of time using various methods of transportation. Visitors from more distant locations in Asia can take advantage of short travel times by air to Macau or to Hong Kong (followed by a short hydrofoil ferry or helicopter trip to Macau). Simply put, easy access from major population centers promotes Macau as a popular gaming destination in Asia.
Macau completed construction of an international airport in 1995 that provides direct air service to many major cities and countries in Asia, such as Manila, Singapore, Taipei, Bangkok, Beijing and Shanghai. The Macau International Airport can accommodate large commercial airlines and has regularly scheduled air service to approximately 11 cities, including at least eight in China, with links to numerous other major Asian destinations.
Most importantly, China opened two border crossings with Macau shortly after the opening of Sands Macau Casino which allowed it's citizens to freely cross the border. This resulted in a wave of lower income punters that fill the main gaming halls, and if they do not return same day they may sleep in such places as massage parlors and parks in order to not waste money on a hotel room – more money for gambling! Such play is a welcome bonus for the casinos, tending to even out the volatility from high-roller play in the VIP rooms.
The casinos of Macau and Cotai Strip
It is well known that Macau casinos and gambling are big; bigger than Las Vegas even and this is not going away. In fact it was only 2006 that Macau beat out Las Vegas to be the highest grossing casino mecca in the world. The annual revenue was only 6.95 BILLION USD for the year. Fast forward to today: Macau just broke all-time records for revenue managing to pull in 4.57 BILLION USD in October 2013 alone.
After foreign companies are allowed to enter the market in 2002, a number of larger Vegas companies came into play. The Sands Macau was the first U.S. owned casino in Macau and it opened its doors in 2004. Amazingly Sands Macau paid for itself in the first year of operation. More big names like MGM and Wynn, Encore are also adorning Macau's skyline. SJM has also stepped up things a notch to keep in time with the new arrivals. Just one look at Grand Casino Lisboa and you will know exactly what we mean.
In Cotai, the strip itself is growing rapidly. Amazingly this enitre are used to be water and connected Taipa to Coloane. Sheldon Adelson famously proposed to fill this space between the islands with concrete to build the Cotai Strip. Now his dream is a reality and gives new meanig to the name City of Dreams which is here, along with Plazzo, Venetian Macao, Sands Cotai and Galaxy Cotai in all of her magnificence.
Billionaire casino mogul Stanely Ho, and his SJM Holdings group that we mentioned above already operates nearly twenty casinos in Macau and has plans and approval to build a 2,000 room mega-resort in the Cotai Strip. The casino will host over 700 table games. Some of the other SJM casinos are: Grand Lisboa, Hotel Lisboa Casino, Emperor Palace, L'Arc, Kam Pek, Ji Mei, Grandview, Diamond Casino, Ponte 16, Oceanus, Greek Mythology Casino, Lan Kwai Fong, Fortuna, Crystal Palace, Casa Real, Casino Babylon, Club VIP Legend, Golden Dragon and more.
Galaxy Casino Group operates Starworld Casino in Macau, Galaxy Macau Casino in Cotai and Pharaoh's Casino in Macau.
James Packer's Crown Limited has made extensive investments in Macau as well and owns the Altira and part of City of Dreams.
Besides the city of Macau and Cotai, there are other locations to gamble, but they are not quite the same. You can find smaller casino clubs like the Mocha Clubs throughout the SAR of Macau. Taipa is home to Casino Altira with a Mocha Club in it to add to its table game assortment. You will also find Greek Mythology Casino in Taipa.
Available Casino Games in Macau
By far in Macau the most popular casino game is baccarat. Some casinos don't have anything except baccarat tables in them. Macau is loaded with Chinese mainlanders coming to seek their fortune. The gambling you will see at some of these establishments is not for the faint of heart. While there are plenty of shows, entertainment and nightlife, Macau really is a hardcore gamblers dream.
While there are thousands of slot machines in the City of Macau if you want to visit loads of slots and shopping, our personal opinion would be to head over to the Cotai Strip. Casinos like Galaxy Macau and Venetian are loaded with slots. If you are already in Macau proper, you definitely aren't out of luck: we'd suggest Sands Macau, Wynn, One or Starworld Casino.
Pari-mutuel facilities in Macau
There are pari-mutuel facilities in Macau. You will find both greyhound racing and horse racing. There is the MJC (Macau Jockey Club – and Grandview Casino attached).
Macau Casinos and Gambling in Summary
Macau casinos seem to attract the super-high rollers. While Westerners talk about Macau being or becoming the Las Vegas of Asia, to hundreds and thousands of Asian casino devotees, Macau already is and has been for some time. Check Macau out, we think you will not be disappointed. You will find the history, the incredible architecture, the nightlife, the gambling, the dining, the luxury hotels and parties just as captivating as we did.
"Everyone is trying to get a touch of the sacred green felt here and strike it rich. Gamblers come to Las Vegas to be entertained. Here in Macao, gamblers, especially Chinese gamblers, step into a casino to challenge their destiny" – Martin Chua (MacauCasinoWorld.com)
Casinos and Gambling Facts
Macau is a country in East Asia with legal gambling. There are 3 cities with gambling facilities in Macau which have 51 legal gambling facilities available in total.

The types of gambling available in Macau are: casinos, horseracing tracks, greyhound tracks.

The largest gambling city in Macau is Macau with 33 gambling facilities, 3,514 tables games, 8,976 gaming, slot, and video poker machines.
The largest casino in the entire country of Macau is Venetian Casino Resort Macao which is located in Cotai. Venetian Casino Resort Macao has 800 table games, 33 poker tables, 3,400 gaming and video poker machines.
Macau Casino Stats
| | |
| --- | --- |
| Table games: | 8,119 |
| Slot machines: | 26,087 |
| Poker tables: | 92 |
Recent conversations
Macau Videos