United States casinos
and gambling guide
United States Casino & Gambling Overview
Casinos in the USA
When in North America there are three countries in which you can find casino gambling, the United States being the easiest and most lucrative for the traveling gambler. Click here for the USA Casino Map. There are more casinos in the United States of America than in any other country in the world. The casinos in the United States offer all the most popular casino games like poker, blackjack and craps.
Top gambling states
In states like Nevada casino gamblers can find casinos to gamble in all over the place. The state of Nevada has more casinos than any other state in the United States. Las Vegas, Nevada is literally packed with casinos and many gamblers in the United States play here. Las Vegas, Nevada is home to many popular casinos, among them Aladdin Casino and Bellagio Casino, both of which have over two thousand slot machines as well as baccarat, caribbean stud poker, pai gow poker and blackjack as well as many other popular casino table games.
Another popular state in the United States for casino gambling is New Jersey. In new Jersey you will find casino gambling in cities like Atlantic City, New Jersey. In the U.S.A., Atlantic City, New Jersey is almost as popular as Las Vegas, Nevada. The state of New Jersey is located in the Northeast part of the United States of America. The Harrah's Casino in Atlantic City, offers gamblers more than four thousand slot machines and table games like Let it Ride and Poker. Many Americans and tourist gamblers in America do their gambling in Atlantic City, New Jersey.
Many of the casinos in America are Native American Indian casinos like Cliff Castle Casino in Camp Verde, Arizona. At Native American Indian casinos gamblers can still enjoy the same great casino table games. Cliff Castle Casino offers over five hundred slot machines and casino table games like Poker and Blackjack. Dog racing at pari-mutuel facilities in Arizona is a popular form of gambling as well. Many gamblers in Arizona bet on the dog races at Apache Greyhound Park in Apache Junction.
Arizona is not the only state in America that has Native American Indian Casinos. Many states in the USA have Indian Casinos. List of California indian casinos. Michigan for example has quite a few Indian Casinos. Kewadin Casino in St Ignance, Michigan is an Indian Casino that offers more than eight hundred slot machines as well as casino table games like 3 card poker, caribbean stud poker, blackjack , let it ride, pai gow poker, craps and roulette. Most find that the Native American Indian casinos are the same as other casinos. Others find that they prefer gambling at Indian Casinos.
Casino gambling in the US has increasingly become more popular in the seventy-five years that it has been legal and regulated. Casino Gamblers from all over the entire world come to the United States to play in US casinos as they are like none other. If you gamble in any of the casinos in the US, you can tell us about it in the USA Casinos Forum. If for example you gamble in one of Nevada's many casinos, you might tell us about it in the Nevada Casinos Forum and likewise with Michigan Gambling Forums. There are even forums for your favorite casino games like the poker forum or the blackjack forum. These and many other forums can be found in the World Gambling Forum Directory.
Casinos and Gambling Facts
United States is a country in North America with legal gambling. United States is divided into states and then cities. There are 48 states with gambling facilities in United States which have 1,842 legal gambling facilities available in total.

The types of gambling available in United States are: casinos, horseracing tracks, greyhound tracks, sportsbetting parlours.

The largest of the states in United States is Nevada with 343 gambling facilities, 5,956 tables games, 169,001 gaming, slot, and video poker machines. The largest gambling city in United States is Las Vegas, Nevada with 146 gambling facilities, 4,407 tables games, 100,704 gaming, slot, and video poker machines.
The largest casino in the entire country of United States is WinStar World Casino & Resort which is located in Thackerville, Oklahoma. WinStar World Casino & Resort has 88 table games, 46 poker tables, 7,400 gaming and video poker machines.
Upcoming United States Casinos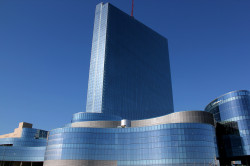 Opens August 31st, 2017

Opens November 22nd, 2017

Opens December 21st, 2017
United States Casino List