Macau Casinos
Average Rating
3.4 /

5
Macau Casino Map
Top Rated Online Casinos for Macau
up to

test
Loading...
There are no available casinos for requested criteria.
Something went wrong. Please try again later.
Casino is closed



About Macau gaming
Macau Peninsula or City of Macau
The Macau Peninsula sometimes referred to as the City of Macau, is home to some of the most impressive casinos in the world as well as some of the oldest and most iconic in the special administrative region (SAR).  In Macau the traditional focus has been on gaming and venues that support the gaming experience, like shows, restaurants, and lounges, but may also include MICE (Meetings, Incentives, Conferences, and Events) space. To experience more of an integrated resort experience with all the family and business amenities, plan to visit Cotai, just to the south of the Peninsula, but still in the Macau SAR.

Macau is broken down into several geological, administrative, and commercial areas. Tapai, Cotai, and Coloane lie to the south and are distinct and separate districts from the gambling areas of the Macau Peninsula. The traditional Macau Parish divisions are not used in relation to casino businesses, but tourists may find them useful. There are, however, two area distinctions that can help a gambling visitor orient themselves and learn about gambling in Macau, these are the NAPE and ZAPE areas.

NAPE (Novos Aterros do Porto Exterior) is situated to the south and east of the central thoroughfare, Avenida de Amizade. This area includes Wynn Macau, Sands Macao, and other newer casinos such as MGM Grand and Starworld. 

The older ZAPE (Zona de Aterros do Porto Exterior) area contains a strip of smaller casinos, restaurants, and bars located north of Hotel Lisboa. This is where you'll find the late night sidewalk cafes and mellow nightlife, along with perhaps the "seedier" side of the city with hotels not directly connected to casinos. You may even still be able to find a rickshaw cycle at Hotel Lisboa, but not really anywhere else other than the ferry terminal, because the  triciclo or riquexó are a dying breed, just as they are in Hong Kong.

You may also run across some more colorful characters willing to make an illegal gambling loan and ready to collect on it. But the entire city is well policed and the ZAPE can be just as safe as the NAPE as long as you follow the rules and exercise common sense.

It would be a mistake to think that the only high roller action in Macau occurs at the newer, more widely known properties such as Starworld, MGM Grand, Wynn and Sands Macao. The older legends such as Grand Lisboa, Rio and the Waldo also have their share of whales at the baccarat tables in the "old zone".
Macau ingress and egress

Visitors entering from the mainland, and those wanting to explore just beyond the Historic Center of Macau can still find the oldest gambling venue in Macau operating in the northernmost part of the city at Macau (Yat Yuen) Canidrome. However, the track is likely to close, move, or begin major changes by the end of 2016. 

Most people enter the city via the 'Terminal' formally, Macau Outer Harbour Ferry Terminal (MOHFT) or Terminal Maritimo. Others may enter via one of three bridges connecting Taipa after landing at Macau International Airport there. Foreign Nationals from many countries can enter Macau visa-free. Visitors from the U.S., Canada, and several other countries can stay up to 30 days.  All arrivals from EU member states except the UK may stay up to 90 days, and UK residents can stay up to 180 days visa-free with a valid passport.

All Macau City casinos are located in the southern part of the peninsula, below the ferry terminal. Buses, shuttles, taxis, rental scooters, and even Uber cars will take you almost wherever you want to go from your arrival point. If you come in on a fast ferry and travel by foot due west, you'll find Casino Oceanus and Casino Jai Alai.

Walk 800 feet or so to the south from the end of the ferry terminal and you'll find Fisherman's Wharf in the NAPE. This was Macau's first theme park and includes a shopping center. The most impressive thing about this area is the diversity. Fishermans Wharf is divided generally into Dynasty Wharf, East Meets West, and Legend Wharf - each with their own intrigue and progressive theme. And then you come upon the real new Macau of the NAPE; Sands Macao.
Macau casinos in the newer NAPE area
Some of the newer casinos with interesting architecture that are really mind-blowing to stay in are The Grand Lisboa, StarWorld, MGM Resort & Casino, and the Wynn Macau including Encore.  The Sands Macao is massive and located on Fisherman's Wharf near the Casino Babylon and the Ferry Terminal to get to Hong Kong.  In the same area, you will also find Casino Golden Dragon, Casa Real, Casino Oceanus, Waldo Hotel & Casino, and much more.
Macau casinos in the older ZAPE area
Although not an older casino you'll find Ponte 16 Resort to the north and west of Amizade Avenue. The 5-star property is located on the inner harbor above Yuettung Ferry Terminal Ponte No 14.  Ponte 16 features "east meets west" architecture and nearly 300,000 sq ft of gaming space. Attractions include the Michael Jackson Gallery and Pier 16 Macau 3D World interactive art museum.

In the ZAPE you'll also find everything from Mocha slots parlors to the iconic Grand Lisboa with its signature fluted hotel tower.

The Macau Peninsula's biggest casinos are Grand Lisboa, StarWorld, Wynn Macau, L'Arc and the Sands Macao.  There are also plenty of medium-sized casinos in between all the mega-resorts.
Macau Casino Information
Macau, Macau has 29 casinos in which you'll find more than 14,305 slots and gaming machines. There are a total of 4355 table games. The minimum bet we've found at casinos in Macau is $0 and the maxium bet is $300,000. Click a casino on the left for more information on a particular property.

There is poker in Macau! You will find over 24 live poker tables to play at. You will find the following games in Macau casinos: NL Texas Hold'em, Stud, No Limit Holdem, Pot Limit Omaha, Omaha, Sit-n-go, Tournaments. Some Macau casinos also offer convention centers and meeting spaces. Over the entire town, you will find a total of 59,620 conference sq/ft space in the various casino properties.
Largest Casinos in Macau
Largest Casinos in Macau
The largest casino in Macau, Macau according to gaming machines and table games put together, is Venetian Macao Casino. The Venetian Macao Casino total casino square footage is 546,000 square feet. It has 6000 gaming machines and 800 tables games. You will also find 3 restaurants.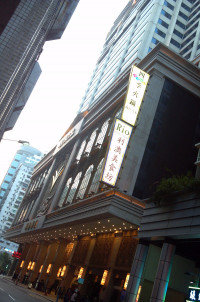 You can contact the Venetian Macao Casino at +853 2882 8877 . The Venetian Macao Casino is located at Estrada da Baia de Nossa Senhora da Esperanca, Macao.
Visit the Venetian Macao Casino information page for more details on this casino, or click here to make hotel reservations. Venetian Macao Casino has a total of 3000 hotel rooms available.
The second largest casino in Macau would be Sands Macao Casino (澳門金沙酒店) with 2110 gaming machines / table games. The Sands Macao Casino (澳門金沙酒店) has a total casino square footage of 229,000 square feet. If you wish to make lodging accommodations at Sands Macao Casino (澳門金沙酒店), please visit the Sands Macao Casino (澳門金沙酒店) information page for more details.
Pari-mutuel
Macau (City) Pari-Mutuel

The City of Macau is located within Macau, China and offers 20 plus casinos; Native American Indian Casinos and State regulated casinos. Interestingly enough the City of Macau offers such superior casino entertainment that they are right up there with Las Vegas and is the second largest in the world. Legalization of gaming in Macau began in the 1850's and the Asia-Pacific market continues to grow and a fast pace and will soon be referred to as Asian Las Vegas.

Pari-Mutuel betting in Macau City is an integral piece of horseracing and greyhound racing today. The system has players placing a bet on a certain horse or greyhound in a race. All players bets going in one money pool. After the race, a portion goes for taxes, a portion goes to the house and then to the winners. If you win, you receive your original amount of money bet. You also receive the remainder of the money that is pooled after it is divided up among all winners in amounts of $2. If you bet $2, you will receive one $2 unit. If you bet $50, you will receive 25 $2 units. The payoffs are created by odds that are determined by the percentage of an overall pool that was bet on each horse. The outcome of the horserace or greyhound race is unbiased in regards to the racetrack. Often times greyhound racing uses the same track as horseracing because the race tracks are a purpose-built facility and are circular or oval in shape where both types of racing can be done.

For greyhound racing in Macau City, The Yat Yuen Canidrome in Macau, located on Avenida General Castelo Branco and is reported as being the biggest track in Asia with greyhound races being held year round; Monday, Thursday, Friday and weekends with 16 games each night. For horseracing, players go to The Macau Jockey Club in Taipai City. Off-track betting is available at Jai-Alai Palace, Hotel Lisboa and Kam Pek Casino.

It is thought by some enthusiasts that greyhound and horseracing pari-mutuel betting may be on the decline in Macau. Both of these racing tracks self-regulate within the terms of their respective concession contracts. They establish their own rules of racing and qualifications for jockeys trainers and animals. Sometimes negative connotations are present because of unknowns that are not objectively computable because of the size of the reward is dependent upon other winning bettors available in the betting pool which is an unknown factor at the beginning of the race.


Review City

Bernard Richter
Posted on May 8th, 2014


+1 votes

Bernard Richter
Posted on November 4th, 2016


+1 votes

Guest
Posted on November 2nd, 2016


+1 votes

Macau Casino Jobs
Macau Stats
| | |
| --- | --- |
| City police | (853) 2857 7577 |
Governed by: Gaming Inspection and Coordination Bureau (DICJ)

Av. Praia Grande Ed. China Plaza 762-804, 21fl.

Phone
(853) 2856 9262
Website
Website