Middle East Casinos
For a list of casinos in a specific country of Middle East, select a country from the list below. Only countries in Middle East with gambling or casinos are listed.
Casino is closed



Middle East Casinos and Gaming Guide
Many people believe that the Middle East is full of strict Muslim anti-gambling regimes and that no casinos can be found there. While this is true in quite a few of the countries, there are a few that have or do entertain casino gambling. Casinos in the Middle East are well positioned for European and Asian tourists looking for an exotic gambling holiday and the region also boasts a number of other tourist attractions despite the troubles and unrest that have dogged the Middle East for decades.
What are we calling the Middle East
It's also a little tricky to define the lines of the Middle East, for example, Egypt's casinos, which are clearly on the continent of Africa and so on. While opinions vary as to what countries make up the modern definition of the Middle East, the various places that it covers in our directory are Israel, UAE, Saudi, Yemen, Iraq, Iran, Syria, Jordan, Kuwait, Lebanon and Libya. The northern African countries that border the Mediterranean Sea also come under it. Our article is based on that. However the World Casino Directory 'casino lists' themselves still lists Egypt, etc as located in Africa.
Middle East pari-mutuel facilities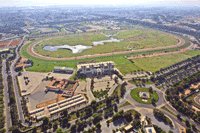 Betting and pari-mutuel are fast emerging as the gambling of choice for many in the Middle East. According to analysts at the research firm, Sport Business, by 2015 more than 80 per cent of the industry's revenue will come from betting on sports. Thoroughbred horse racing is another wagering avenue that has always been a vital part of the heritage of Iraq. While it had dulled over the years, it has made a rapid comeback recently. The Middle East in general is an important region for horse racing and the gambling that accompanies it. Horses are central to many Middle Eastern cultures.

Casinos in the Middle East must constantly be aware of the cultural and religious climates of the various countries in the region and act accordingly. Tourists on gambling holidays should also bear these factors in mind.
You can always check here for the latest Middle East gaming news.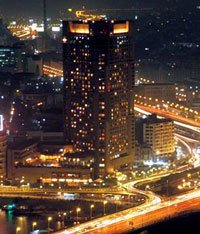 Egyptian Casinos and Gaming
In North Africa, Egypt is still considered a Middle East country and has far more casinos than all the other countries in the region combined. Casino's in Egyptian resorts will easily meet the standards of high rollers looking for a luxurious gambling holiday, but also cater to ordinary tourists looking to get in on some of the glitz and glamour of casino life. Unfortunately since the uprising started against the Mubarak regime on January 25th 2011 business at Egyptian casinos, particularly in Cairo, has been severely curtailed. To make matters worse violence from August 2013 and nightly curfews mean that many of the casinos that get very limited time to open face a very real threat of going bankrupt. Casinos in the Red Sea Resorts such as Sharm-el-Shek seem relatively unaffected going in to the last quarter of 2013 and actually have benefited from casinos in the rest of the country being restricted from opening.
Of all the nations in the world the history of gambling goes farther back in time in Egypt than anywhere else. Thousands of years ago Egyptians loved to gamble, even more than their Persian and Mesopotamian brothers. The ancient Egyptian tombs, adorned by sculptures depicting numerous gambling scenes are testimony to this. What is interesting to note is the existence of several anti-gambling laws established as far back as 3000-4000 B.C. in the hieroglyphic records from these old dynasties. Egypt's gambling history clearly indicates that for thousands of years gambling was a significant part of Egyptian life, as it is today.
In Cairo alone there are over 20 casinos with the most famous being Les Ambassadeurs, The London Club Cairo, Cleopatra Casino and Casino Semiramis. Other parts of Egypt famous for casinos are Sharm El Sheik with its 5 casinos on beautiful beach front resorts and Taba where the Taba Hilton & Casino is just across the border with Israel and attracts high rolling Israelis.
Israel and casino gambling
Israel had for many years' high stakes gambling ships that ventured on cruises to nearby Cyprus packed full of Israelis who could not legally gamble in their own country. At one point there were 7 such boats. In 2005 all these boats were deemed to be operating illegally by the Israeli authorities, were raided and closed down overnight. Israel has never had legal casinos but for many years authorities have been trying to legalize casinos in such tourist areas as Eilat. At one point not too long ago the Israel Land Administration signed off on a deal allocating a 12-acre plot on the Eilat's northern shore for the development of Israel's first gambling arena. Plans for the gambling area also called for a conference centre, trade zone and multiple hotels. At the time the Prime Minister said that illegal gambling operations were costing the government huge amounts of lost revenue and this project would give Eilat a giant economic boost with vastly increased tourism as well. There has been no development with the Eilat gambling zone as of the last half of 2013.
Possibly the most profitable casino in the world at one time was actually opened in the Palestinian Territories in 1998. A $150 million casino-hotel, the Oasis Hotel Casino Resort, was built in Jericho with the backing of the Palestinian President Yasser Arafat and was operated by the world's largest casino operator Casinos Austria International. Oasis Hotel Casino Resort's casino quickly became the world's most profitable casino with thousands of Israelis a day flocking over the border to the 120 table and 300 slot machine operation. Due to the on-going situation in the Middle East at the time and the closure of the area around Jericho to Israeli citizens and tourist visitors, the Oasis Hotel Casino Resort had to close its casino operations in October 2000. The casino remained fully equipped and ready to reopen for many years awaiting changes in political circumstances in the region.
Lebanon - Casino du Liban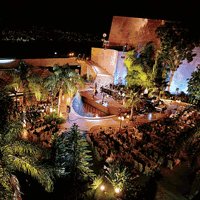 One of the most famous casinos in the Middle East is Lebanon's Casino du Liban which stayed open through many years of civil war and today is a very successful operation managed by London Clubs International which in turn is owned by the world's largest casino company Caesars Entertainment.
In the time when Saddam Hussein ruled Iraq casinos actually operated quite openly during the 1980's and were mainly operating in the capital Baghdad. Baghdad's most famous casino at the time which was popular with politicians, movie stars and other dignitaries was in the Palm Beach Hotel. It was not very long after the overthrow of Saddam Hussein that casinos began to open in the semi-autonomous Kurdish region and in September 2007 a Russian company opened a casino in the town of Suleimaniya which stands on the border with Iran. By the middle of 2013 more casinos have opened in the Kurdish region and in this oil rich province and relatively peaceful part of Iraq there are plans for some more large scale casino resorts.
Although casinos or any form of gambling is totally banned in neighboring Iran they flourish under the rule over the Shah of Iran in the 1970,s when the petro dollars flooded the gambling tables. The Islamic Revolution of 1978 brought immediate closure of all the casinos in Iran. In Syria casinos had been banned by the clerics for 25 years but one opened for a very short period of time in downtown Damascus on Christmas Eve 2010, again this angered the clerics and it was closed after just 3 months.
There was no bigger casino market than that in Turkey which had 78 major casinos operating until the Welfare party, who were always wary of the influence of organized crime in the casinos, closed them all down abruptly when they came to power. February 6th 1998 saw all the casinos close and although it is often rumored casinos will be legalized again this has never happened. Although no casinos have ever opened again on mainland Turkey the Turkish Republic of Northern Cyprus (TRNC) has over 30 casinos as of August 2013. Exciting developments with major casino expansion are happening on the Georgian border town with Turkey named Batumi. Batumi has capitalized on all the Turkish gamblers who cannot get action in their own country and some of the new casino resorts are making substantial profits with the Georgian government raking in substantial taxes and licensing fees. In May 2013 the Georgian Government held a major investors summit for casino companies wishing to buy-in to the Batumi experience.
Probably NOT.
Countries in the Middle East that have never had, or are likely to have, casino gambling are; Saudi Arabia, Yemen, United Arab Emirates, Jordan, Kuwait, Qatar, Oman and Bahrain.
Other Middle Eastern gambling
While raffles, lotteries and other forms of gambling in the UAE, Israel, Saudi and all parts of Middle East are quite prevalent, they often need to comply with religious and cultural norms, a factor that now receives careful consideration. Eilat continues to lure plenty of Europeans and Israelis for the gambling industry. Reports in Israel say a strip of casinos may soon come up on the tourist-rich red sea coast. While the government has not yet legalized casinos in Israel, Sheldon Adelson, owner of The Venetian in Las Vegas and developer of the Cotai Strip in Macau, has agreed to commit to investing at least $1 billion in casino developments in Israel if the government legalizes them.
Middle East poker / Texas Holdem
While the normal poker is available at most places, they more often than not do not state so. Caribbean stud poker is also available at places like the Casino du Liban in Lebanon can visit the Casino du Liban that also offers blackjack, roulette and other games. Click here for our poker guide.
Backgammon a rising game in the Middle East
In Israel especially, backgammon is on the rise. With internet gaming available you can play backgammon for money or for fun. If you'd like to know more about the game of backgammon and some trusted backgammon sites, click here: backgammon information. Another good site is "play65" a backgammon site for the International and Israeli players.
Pari-mutuel
Horse racing is steeped in history in the Middle East and goes back hundreds of years in many Middle Eastern countries. Some of world's leading owners, trainers and racetracks are here and none more so than in the United Arab Emirates. The Emirates have there own Racing Authority which is one of the most respected and sophisticated in the world. There are excellent tracks and racing facilities at Nad al Sheba, Abu Dahbi, Jebel Ali, Sharjah, and Ghantoot. In 2010 what will probably be the most futuritic race track in the world will open in Meydan, Dubai.
Race tracks only opened recently in the Emirates (late 1970's). And while entry to racetracks of such quality in other parts of the world can be expensive, admission to all of the tracks in the Emirates is free.
Nad al Sheba Racecourse in Dubai held the world's richest horse race, the $6 million Dubai World Cup in March 2007.
Arabian horse racing is also famous throughout the region especially in Saudi Arabia, Dohar, Qatar, Egypt and Bahrain. Even during the difficult times in Iraq punters would queue up at the Bagdahd equestrian club. Just off the coast of Lebanon the Nicosia Race Club draws regular large crowds, the Cypriots are in the Chinese and Australian league when it comes to gambling fanatics.
Greyhound racing in the Middle East is again going to be the most prevelant in United Emirates and the major racetrack in the region is just a one hour drive from Dubai at the Al Ain Dog Racing Club Al Ain. Although Greyhounds date back to ancient Egypt there does not seem to be any greyhound racing going on there at current. Also interesting to note that there are Jai Alai frontons in Egypt and some people even suggest the game actually was born there.
Gambling Law
The Middle East sits where 3 large land continents: Africa, Asia and Europe converge. Middle East is also known as West Asia and the countries of Middle East are all part of Asia. Even though the countries that come under Middle East are often debated, yet the various countries that are inclusive are Egypt, Israel, UAE, Saudi, Yemen, Iraq, Iran, Syria, Jordan, Kuwait, Lebanon and Libya. The most frequented city of Middle East is Dubai.


Gambling in Middle East
There are 2 countries in the great expansion of Middle East that have casinos in them. However there are no countries that offer Pari-Mutuel facilities in Middle East and so by the same coin, you won't find any Racinos in the Middle East either
The largest casino in Middle East is located in Jounieh, Lebanon. However the largest number of casinos is in Israel. Israel has 4 casinos and 63 slots. Let us have a look at the gambling law prevalent in Israel.
Gambling Law in Israel
Legalizing of gambling is yet to be finalized by the legislators in Israel. However there are raids on illegal gambling joints in the country. One of the largest gambling establishments, the Mifal Hapayis Lottery Authority, has 500 slot machines operating in restaurants and pubs. All their gaming machines are authorized by the Ministry of Finance.
As per the contents of a report, there are no less than 150 legal casinos that are operating in Israel. They are functioning in the food and entertainment establishments under the purview or members of Knesset, the Israeli Parliament.
During the last elections about 3 years ago, there were more than thirty political parties who contested for seats in the Knesset. One such party is The Casino Party. The Casino Party had a very lucrative ground during the election and that was the promise to legalize casino gambling in Israel. The reasons for such legalization were:
1) To compete with the extremely successful Palestinian casino in Jericho, this was to be followed by another in Tull-Karm (the Palestinian casino is closed now)
2) To keep the Israelis' hard-earned money in Israeli hands, which could help fund various social events (like the lottery does, at present)
3) To provide people with job opportunities, and undoubtedly other rationalizations. But, the arguments against such legalization were also quite powerful, and they were:
a) Casino gambling is very closely associated with organized crime—Israel should not assist Mafioso's with another means of making money actively.
b) Gambling is addictive in nature. It has the possibility of creating another ill of society, and
c) Legalizing it somewhat "koshers" an otherwise dishonest means of making money. This reduces the difference between casino gambling and someone ripping people off at three-card-Monty (which is illegal in many areas where gambling has been legitimized).
Jewish Traditional beliefs and their opinion on gambling:
According to the Talmud, the following people are invalid to serve as witnesses and certainly not as judges:
1) Dice players--i.e., people who live off winnings from gambling
2) People who lend out money on interest
3) Pigeon raisers (this is because of two primary reasons:
a) Pigeon raisers train their pigeons to attract other people's pigeons--even if the other person only captured pigeons and never paid for them, still it is dishonest
b) Pigeon raisers use them to race against other pigeons--another case of forbidden gambling)
4) Those who conduct business with yields of the Sabbatical year (which has a certain degree of sanctity to it, and is forbidden for commercial use, but is rather to be declared ownerless and free to all)
Exceptions:
Only exception to the above list is Rabbi Yehudah. This is applicable only if they have no other occupation other than this. That is if they earn an honest livelihood by some other means, they are still valid to serve as witnesses and judges. The lottery winners are permitted because those who indulge in buying of lottery tickets know that if they lose, the money would go to various social programs and hence they go ahead in this with this knowledge.
Another interesting distinction is the game where victory relies purely on luck and there is no skill involved. For instance the slot machine, the money gambled is relinquished at the very beginning of the game, so that the winnings can not be classified as theft.
If the participants are also depending on their skill, (for example in Backgammon, that involves skill, a little bit of luck, and the doubling cube--outright gambling) it means that the players are not giving up their money completely in the case of a loss. A person who plays backgammon always puts down the money because he thinks he's more capable than his opponent, and even if he should lose, will always feel that he was cheated. So it's a problem of theft if the opponent makes use of the earnings.
Middle East Gaming Conclusion
Gambling is much prevalent in the Middle East. Though the laws in some of the countries are quite stringent yet the casinos and the gaming machines here are much frequented by the rich sheikhs and tourists alike.
Middle East Stats
Countries w/ gambling:

5

Cities with gambling:

20

Total casinos:

44

Gaming tables:

311

Slot machines:

1,418

Poker rooms:

10

Sportsbooks:

0

Bingo halls:

0

Horse tracks:

15

Greyhound tracks:

0

Lotteries:

0
More Middle East Gambling