Macau casinos
and gambling guide
Review Country

Guest
Posted on November 5th, 2015


+1 votes

Bernard Richter
Posted on November 5th, 2015




+1 votes
Macau Casino & Gambling Overview
Macau is the only place in China where casinos and pari-mutuel gambling are legal.  It is a special administrative region (SAR) of China and is home to the some of the world's most incredible casino resorts. Macau casino properties feature superb architecture and nearly all of them offer fine dining, exciting nightlife, and luxury accommodations. Most of the casinos are located in world famous luxury hotels or are all-inclusive integrated resorts in their own right, the largest of which host three to four massive hotels in one complex.  The largest resorts are in Cotai. Venetian Macao, the largest casino in the world is located in Cotai. Macau is an incredible destination for those wishing to experience world class gambling, entertainment, culture, and history.
Macau sees over 30 million visitors every year. About two-thirds come from mainland China and about one-fourth come from Hong Kong and Taiwan, with the balance of visits originating elsewhere. Macau currently has more than 30,000 guest rooms spread across 75 hotel properties which range from 5-star deluxe to 2-star hotels. There will be approximately 3,000 more rooms added as new hotels open. Wynn Palace opened on August 22, 2016; Parisian Macao opened September 13; THE 13 is expected by Q4 2017, with 200 villas (suites) and MGM Casino Cotai should open in the last quarter of 2017 with 1,400 rooms. Grand Lisboa Palace is expected to open in 2018, it too will offer 1,400 guestrooms and suites.
Evolution of Macau casino and gaming industry: past to present

A former Portuguese enclave that was always known as a place of gambling and excess, Macau legalized gambling in 1847. In 1962 the former government granted STDM, now SJM Holdings, a monopoly to operate all gambling.
When Portugal handed Macau over to the Chinese government in 1999, China allowed gambling to continue but broke up the SJM monopoly. Their exclusive deal expired in 2001 and by 2002 new casino licenses were awarded. In May of 2004, the first western owned casino opened, Sands Macao, ushering in a new era in Macau gaming history.
In 2006 Macau posted higher revenues than Las Vegas becoming the highest grossing casino location in the world. Macau's gross gaming revenue (GGR) for 2006 was US$6.95 billion.  GGR had been growing at such a tremendous rate that in 2011 PwC predicted that gaming revenues would reach US$62.17 billion by the end of 2015.  By October 2013 Macau was breaking records for revenue with casinos pulling in 4.57 billion USD in a single month.
What analysts didn't see coming was a corruption crackdown from Beijing which began in 2012. As China is the main source of gamblers in Macau, the country's deflating economy also had an effect on revenues. The Macau government instituted a "new to market" gaming table cap beginning in 2013 and began in earnest to "adjust" Macau from a gambling-centric destination to a tourist center with economic, social, and environmental balance.
In 2015 GGR was only $29 billion, but still five times that of Las Vegas. Although the average spend per player is no longer ten times that of Las Vegas gamblers, they still spent six-times as much at the tables than Las Vegas visitors did in 2015.  Although most of 2016 still saw Macau experiencing a temporary downturn, the casinos there pulled in more than any others on earth with about US$13.5 billion in gross gaming revenue (GGR) for the first six months of the year.
Before turning the corner in August 2016, July marked the 25th consecutive quarter of contraction from a high of US$45.27 billion in 2013 to about US$25b by the end of 2016. Even at US$13.5 for the first half of 2016, Macau dwarfed the entire state of Nevada which posted a total win of about US$5.65 billion for the six months of December 2015 through May 2016. As of July 2017, Macau had experienced 12 consecutive months of recovery and growth. The recovery is so phenomenal that analysts actually complained about "disappointing" 26.9% year-on year growth to $2.5 billion in June, while many experts predicted up to 30% growth over the previous year to date.
Gross revenue from casino gambling in Macau: 2007 to 2016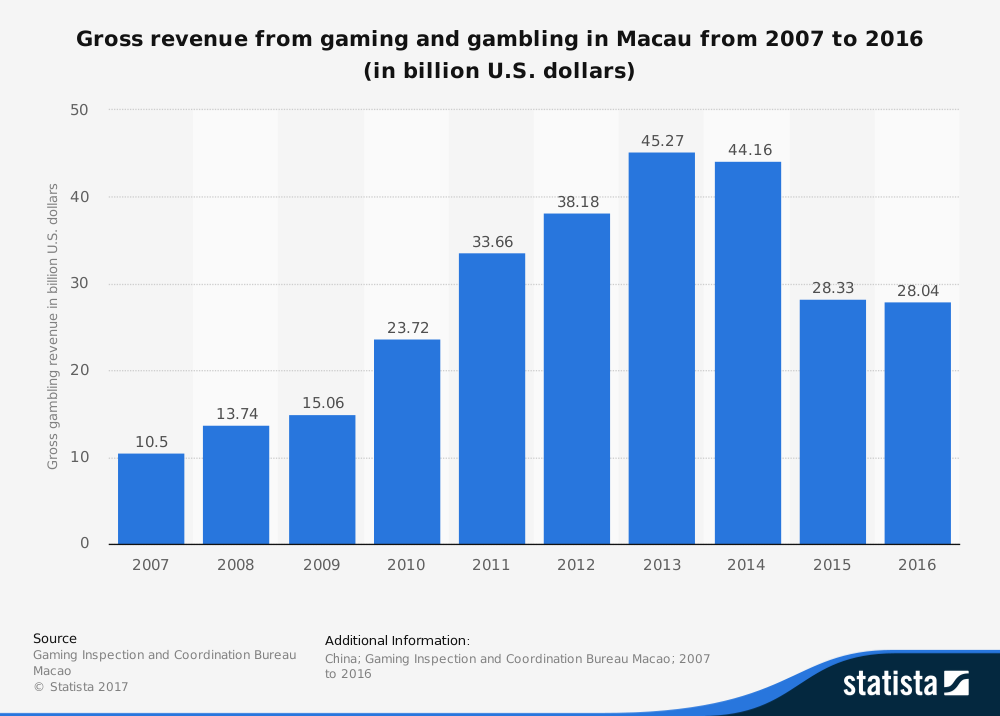 This chart showed the sharp downturn in the Macau gambling market when China began its crackdown on corruption, among other things. However, August 2016 marked the beginning of a recovery.
The casinos of Macau and Cotai Strip
After foreign companies were allowed to enter the market in 2002, a number of larger Las Vegas operators came to join Galaxy and SJM.  Galaxy owns StarWorld, perhaps one of the most iconic buildings in Macau. Sands Macau was the first U.S. owned casino in Macau - Sands opened their doors to the public in 2004. Sands Macau paid for itself in the first year of operations. More big names like MGM and Wynn also adorn Macau's skyline. SJM has not fallen behind. Their Grand Casino Lisboa is a prime example of the level of opulence and quality needed to compete in such a ferocious market.
Meanwhile, in Cotai, the strip itself is growing rapidly with 13 properties open or opening soon. This entire area used to be water between Taipa to Coloane. Sheldon Adelson famously proposed to fill the space between the islands with concrete to build the Cotai Strip. Now his dream is a reality and gives new meaning to the name City of Dreams which is here, along with Galaxy Macau, Venetian Macao and Sands Cotai in all of her growing magnificence. Galaxy completed Phase II (of 4) along with Broadway Macau in 2015 and Melco Crown opened Studio City in October. Wynn Palace and Parisian Macao opened in 2016 and MGM Cotai is slated to open in late 2017. Each of the aforementioned properties cost in excess of a billion dollars to build. And let's not forget the world's most expensive hotel, which may also open with a casino; Stephen Hung's $1.4b "The 13" expected to open by the end of 2018. The 13 has already purchased the world's largest fleet of Rolls-Royce Phantoms. The hotel will feature 200 suites (villas) ranging in size from  2,000 square feet to 30,000 square feet. Are you ready for a room that costs $100,000 a night?
Cotai Strip at Night

Although billionaire casino mogul Stanley Ho retired in June 2017, his daughter Pansy Ho took the reigns, and her SJM Holdings group is building a 2,000 room mega-resort on the Cotai Strip to be named Grand Lisboa Palace. The casino will host over 700 table games if they get their wishes, but government caps seem to indicate no more than 250 upon opening. Some of the other SJM casinos are: Grand Lisboa, Hotel Lisboa Casino, Emperor Palace, L'Arc, Kam Pek, Ji Mei, Grandview, Diamond Casino, Ponte 16, Greek Mythology Casino (temporarily closed), Lan Kwai Fong, Fortuna, Crystal Palace, Casa Real, Casino Babylon, Club VIP Legend, Golden Dragon, Pharaoh's Casino and more.  Greek Mythology has been shuttered since December 31, 2015, but may open again as well. Casino Jai Alai at Oceanus is expected to re-open before the end of 2017.
Galaxy Casino Group owns and operates Starworld Casino in Macau, Galaxy Macau Casino, and Broadway in Cotai.  It also operates the City Club casinos inside of Waldo Hotel, President Hotel, and Rio Hotel.
James Packer's Crown Limited has divested of their extensive investments in Macau and ceded interests in the Altira, City of Dreams, and Studio City casino resorts to former partner Lawrence Ho through Melco Crown Ltd., now known as Melco Resorts & Entertainment.
Besides the city of Macau and Cotai, there are other locations to gamble, but they are not quite the same. You can find smaller casino clubs like the Mocha Clubs throughout the SAR of Macau. Taipa is home to Casino Altira with a Mocha Club slots parlor adding to its table game assortment. You will find about half a dozen casinos in Taipa.
Available Casino Games in Macau
The most popular casino game in Macau is baccarat. Some casinos don't have anything except baccarat tables in them. Macau is loaded with people from the Chinese mainland coming to seek their fortune. The gambling you will see at some of these establishments is not for the faint of heart. While there are plenty of shows, entertainment, and nightlife, Macau is a hardcore gamblers dream.
There are thousands of slot machines in the City of Macau. If you want to mix shopping and gambling, our advice would be to head over to the Cotai Strip. Casinos like Galaxy Macau and Venetian are loaded with slots and plenty of shopping opportunities. Sands Shoppes at the Venetian offers an amazing retail experience with more than 850 duty-free outlets. If you are already in Macau proper, you aren't out of luck - we'd suggest Sands Macau, Wynn, or Starworld Casino.
Pari-mutuel facilities in Macau
There are pari-mutuel facilities in Macau. You will find both greyhound racing and horse racing. The MJC (Macau Jockey Club – and Grandview Casino attached) and the Macau (Yat Yuen) Canidrome offer races and pari-mutuel betting. However, the government has ordered the Canidrome to close or relocate by July 2018.
Location and geography of Macau, Cotai, Taipa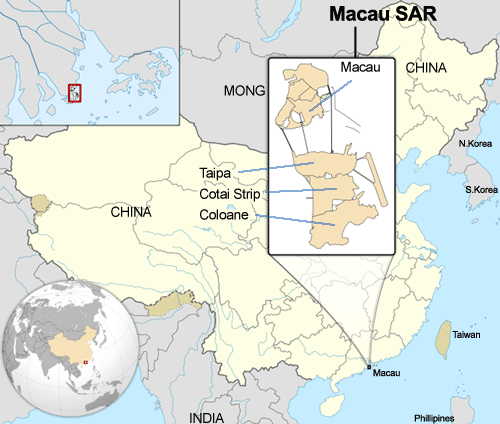 There are two main districts for casino gaming, the actual city of Macau and the Cotai Strip.  There are a few casinos in Taipa and other districts (mostly Mocha casinos).  You will find the biggest resorts in Cotai, but Macau is home to the Grand Lisboa, Sands Macau, Wynn and a few other stunning casinos.
The Special Administrative Region of Macau is a peninsula bordering the Chinese Mainland by Zhuhai city. The Cotai Strip is on the island of Taipa. Cotai is built completely on reclaimed land between Coloane and Taipa, hence the name Cotai, which is a combination of those names.  In total, Macau has only 11.39 square miles (29.5 km²) of land to build on. All of the Macau SAR (Coloane, Taipa, Cotai, and Macau) is connected by beautiful bridges as well as tunnels into mainline China. You can get a bit of a feel for the layout of things from the map of Macau here. For a good idea of what  Macau looks like from the ground, we suggest our Macau photo gallery.
Transportation to Macau
There is only one other Chinese SAR and that is Hong Kong, which you can easily reach from Macau using the turbojet ferries. The fast catamaran and standard ferry trips take from 45 to 75 minutes depending on vessel choice and sea conditions. Vessels run every fifteen minutes from 7 pm until midnight with another 7 overnight trips after that.
Gamblers from Hong Kong and Taiwan and other nearby locations in Asia can reach Macau in a relatively short period of time using various methods of transportation. Visitors from more distant locations in Asia can take advantage of short travel times by air to Macau or to Hong Kong followed by a short hydrofoil ferry or helicopter trip to Macau.
Macau completed construction of an international airport in 1995 that provides direct air service to many major cities and countries in Asia such as Manila, Singapore, Taipei, Bangkok, Beijing, and Shanghai. The Macau International Airport can accommodate large commercial aircraft and offers regularly scheduled air service to about a dozen cities, including at least eight in China.
Most importantly, China opened two border crossings with Macau shortly after the opening of Sands Macau Casino which allowed Chinese citizens to freely cross the border. This resulted in a wave of lower income punters that fill the main gaming halls, and if they do not return the same day they may sleep in such places as massage parlors and parks in order to not waste money on a hotel room – more money for gambling! Such play is a welcome bonus for the casinos, tending to even out the volatility from high-roller play in the VIP rooms.
Casinos and Gambling Facts
Macau is a country in East Asia with legal gambling. There are 3 cities with gambling facilities in Macau which have 50 legal gambling facilities available in total.

The types of gambling available in Macau are: casinos, horseracing tracks, greyhound tracks.

The largest gambling city in Macau is Macau with 30 gambling facilities, 3,661 tables games, 8,455 gaming, slot, and video poker machines.
The largest casino in the entire country of Macau is Venetian Casino Resort Macao which is located in Cotai. Venetian Casino Resort Macao has 800 table games, 33 poker tables, 3,400 gaming and video poker machines.
Macau Casino Statistics
Coming Soon Casinos
Jan 1


1975

Macau, Macau
Feb 1


2009

Cotai, Macau
TBD
Cotai, Macau
Aug 31


2018

Cotai, Macau
Jan 1


2020

Cotai, Macau
Newest casinos
Aug 31


2018

Cotai, Macau
Feb 13


2018

Cotai, Macau
Sep 27


2017

Macau, Macau
Feb 27


2017

Macau, Macau
Sep 13


2016

Cotai, Macau