Eastern Europe Casinos
For a list of casinos in a specific country of Eastern Europe, select a country from the list below. Only countries in Eastern Europe with gambling or casinos are listed.
Casino is closed



Eastern Europe Casinos and Gaming Guide
This section of World Casino Directory deals specificially with East Europe casinos and gambling. The continent of Eastern Europe has countries with casinos in them and countries with pari-mutuel facilities in them, including horse racing and dog racing or the newer racinos which have slots or video poker terminals within reach of the gamblers. Click the following articles for a run-down on specific gambling in this continent. East Europe Poker for the poker guide, or East European Lottery for East Europe lottery results and lottery information and last but not least visit this page for the current gambling news in Eastern Europe.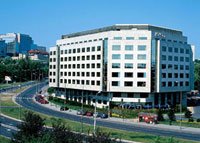 WCD Eastern Europe update September 9th 2013
Following the collapse of the Soviet Union and fall of communism in the early 1990's, casinos, which were never allowed in the countries that made up the USSR, started to spring up across all of Eastern Europe. In December of 1991, as the world watched in amazement, the Soviet Union disintegrated into fifteen separate countries. East European countries that were previously in the USSR and that soon started up casinos were the Baltic states of Latvia, Lithuania and Estonia, plus Georgia and Ukraine.
Many countries of the Warsaw pact that were controlled by the USSR were the first to break free after the fall of the Berlin Wall on 9 November 1989. Even before the fall of the Soviet Union, casinos were beginning to appear in Poland. Eastern Europe's first ever casino in a country previously part of or controlled by the USSR was a venture between the world's largest casino company Casinos Austria and the government owned Lot Polish Airlines named Casinos Poland. Casinos Poland in 1989 opened their casino in the Hotel Pod Roza in Krakow and quickly followed that by opening in the Marriott Warsaw.
Although there was an explosion of casino expansion all through the 1990's and most of the 2000's there was a major reversal in quite of a few of the major countries. When on acting on a law passed by the federal government in January 2007 the Russian government ordered around 3700 casinos closed down on July 1st 2009. Ukraine and other countries of the former Soviet Union soon followed Russia's example of closing casinos in major cities and setting up special gambling zones far away from population centers.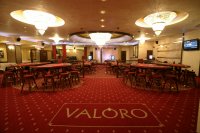 In Russia the first legal casino actually opened before the USSR's collapse at Moscow's Savoy Hotel in 1989. A company from Finland opened the casino exclusively for foreigners according to a special permission from the Soviet government. Casino Savoy was the first land based casino allowed by the communist government but the same Finnish company were actually allowed to operate a casino on the cruise liner 'George Ots' from 1987 and this was technically the first casino to have operated in the then Soviet Union.
Casinos operating in what then became just Russia reached nearly 4000 but a surprise and mega shock came when the federal government passed a law on January 1st 2007 which stipulated the creation of 4 special gambling zones and the closure of all casinos by July 1st 2009. Casinos in Russia are now confined to the Altai region of Siberia; the coastal area of the Far East, near the border with North Korea and China; Kaliningrad a Russian enclave between Poland and Lithuania; and the Azov Sea region in the south.
Things were slow to happen in the special gambling zones and it was not until Casino Oracle opened in the territory of the Azov-City gambling zone on January 30th 2010 that a slow process of new casinos in these zones opening up began to happen. Since the Casino Oracle opened only 2 other small casinos have in opened in the special zones due to a combination of lack of investor interest and belief the authorities would allow casinos again in the big metropolitan areas. In March 2013 at the Global Gaming Asia Business show there was finally strong interest from gaming giants from around the world in especially the Primorye Region near China's border which is close to the major city of Vladivostok . On July 11th 2013 Lawrence Ho, son of Macau casino mogul Stanley Ho said he will invest in two Russian gambling resorts worth $630 million in the Primorye region. On September 9th 2013 Asian casino developer NagaCorp Ltd. Became the second major player in pitching a possible casino in the Primorye Region and its proposed new casino-resort would require a $350 million investment.
Many of the ex-Soviet states were, or still are, influenced by Russia, and incredibly Ukraine which was the country with the second largest number of casinos in Eastern Europe almost immediately followed Russia's example and in the same month closed all the country's casinos. In addition to closing all the country's casinos Ukraine also announced that like Russia they were setting up special gambling zones in far flung regions but by the second half of 2013 nothing had been built.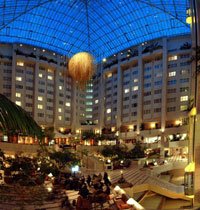 Belarus had the third largest amount of casinos after Russia and Ukraine and greatly benefited from the closing down of casinos in these countries. Minsk is the capital of Belarus and just this one city has 29 casinos, with Admiral Casinos having 12 and Olympic Entertainment Group 7. Olympic Entertainment Group also operates casinos in Estonia, Latvia, Lithuania, Poland and Slovakia. Poland is where it all started at the beginning of 1989 where Casinos Poland opened the regions first legal casino in many decades. Casinos Poland and Orbis Casinos are jointly the largest operators of casinos in the country now with 7 casinos each. Casinos Poland's casino in the Marriott Warsaw is easily the country's largest and most profitable of 27 nationwide operations. Probably the most famous casino in Poland is Orbis Casino Sopot in the Grand Hotel Sopot which actually had a famous casino in the same building in the late 1890's and is a classical building to this day.
Bulgaria and the Czech Republic have the next largest amount of casinos with over 20 each. Princess Group which has 31 casinos in 11 countries are by far the largest operator in Bulgaria and own the country's 3 largest casino complexes and Princess Hotel and Casino Sofia, which is the country's largest. While the casino business is booming in Bulgaria the industry and casino numbers are rapidly shrinking in the Czech Republic, mainly due to the economic downturn there and an oversupply of casinos especially in the capital Prague. Gambling activities in the Czech Republic are regulated by the International Relations and Financial Policies Section of the Minister of Finance and after granting too many licenses at least 6 casinos in Prague have closed in recent years because of too much competition.
Of other countries in Eastern Europe, Hungary has also seen its casino industry shrink especially in the capital Budapest which in 2013 has only 2 casinos whereas in recent years it had 11. Casino Las Vegas and the Tropicana Casino which were the first casinos to open in the country are the only ones left operating in Budapest. Hungary has 4 casinos in other parts of the country mainly run by one of the world's largest operators, Casinos Austria. Albania legalized casino gambling in 2004 and the Hyatt Regency Tirana opened a year later and is still the only casino in the country having had several arguments with the government and at one point threatening to close down.
Slovenia, Slovakia, Bosnia and Herzegovina, Croatia and Kosovo, Macedonia and Serbia all have casinos also, with the HIT group the main operator in these countries. In Croatia the government lotteries actually operate 7 full blown casinos. In Slovenia HIT Group operate the country's 6 casinos and also operate 1 each in Croatia, Bosnia Herzegovina and Montenegro. Serbia is one of the most populous countries in the region but was the last to allow casinos which it did at the end of 1994, most of the casinos in the capital Belgrade are only slot operations but in 2007 the Grand Casino Beograd opened with 30 tables and 243 slots and is one of the largest casinos in Eastern Europe. Kaliningrad a Russian enclave between Poland and Lithuania is a designated gambling zone of Russia but so far no investors have come forward and no new casinos have opened as we approach 2014.
Eastern Eurpe Casinos & Gambling
Casinos are emerging as a popular form of leisure entertainment and revenue in eastern parts of Europe. Most of the casinos and the gambling arcades are seen to be present in the countries of Albania, Bosnia and Herzegovina, Bulgaria, Croatia, Czech Republic, Estonia, Hungary, Latvia, Lithuania, FYR Macedonia, Poland, Romania, Slovakia, Slovenia, Serbia and Montenegro and Turkey. Here is an overview of how the gaming industry functions here.
Gambling in East Europe
Albania decided to bet on casinos in late 2004 and the first casino was opened in October 2005 by the Hyatt Regency in Tirana. Now as the government has decided to quadruple taxes on slot machines, Hyatt has threatened to close down the joint. This casino has 22 tables and 240 slot machines. Gaming in Bulgaria evolved too and has set high standards. While luxury outlets have up to 50 gaming machines, less attractive ones have 10-20 slots.
Locations to gamble at in East Europe
Large casino operators are found in Bulgaria, and the Turkish entertainment group called Princess owns the three biggest casinos there. Local operators include the bookmaking chain Eurofutbol with 2 casinos and Multigroup that owns and runs 3 casinos. Smaller and more seasonal operators of casinos are also present. Electronic casinos are present with one of the biggest local chains is Eldorado which has more than 20 locations of electronic casinos that come equipped with video slots, automatic roulettes, and progressive jackpots. Chains of Queens Club, Blitz Club, and other local smaller operators with 1-2 gaming arcades are also well visited. Bosnia and Herzegovina has one casino at Sarajevo while Hungary, Turkey and Poland have many.
Poker in Eastern Europe
Poker is much enjoyed in East Europe and has many outlets. Poker Rooms in Czech Republic include the names of American Chance Casino located in Ceska Kubice, Route 59 and Hollywood spin. Casino 777 offers poker rooms in Brno, Liberec, Teplice, Zlin-Ondras and Znojmo. Furth im Wald, Ceska Kubice, and Kleinhaugsdorf border crossing, Hate, also have poker rooms. Poker, banana poker and matrix poker are available and enjoyed in Bulgaria. Hungary has four poker rooms while Poland has 20 including Grand casino and the Novotel chain of casinos.
Pari-mutuel wagering in East Europe
While pari-mutuel wagering has evolved and found its place in the hearts of many, it is still catching on in Europe. Betting on horses, boats, bicycles, lotteries, bikes and sports has become common and many choose this form of gambling over other kinds.
Pari-mutuel
Horse racing has endured a checkered career in Eastern Europe over the past couple of centuries. Organized horse racing as we would know it is evident in the Czech Republic Poland, Hungary, Slovakia and Slovenia.
The Czech Republic hosts the most number of race tracks in Eastern Europe with 15 courses. The capital, Prague, hosts the country's main race course at Velka Chuchle with racing on most Sunday s from April to October. Karlovy Vary, Most, Lysa nad Laben, and Slusovice are the other main courses with regular racing. Betting at the Czech racecourses is organized by Betino, which has a monopoly on horse racing betting in the Czech Republic. A mix of fixed-odds and totalisator bets is offered. Betino posts its odds on the internet on , under "kurzove nadibky". Nowadays it is possible to bet online on Czech racing. German bookmaker Pferdewetten offers odds on races at the main Czech courses. Some British bookmakers offer odds on the Velka Pardubicka. The online bookmakers have no handling charges.
Poland has three race courses – one in the capital Warsaw, Wroclaw and in Sopot. The Warsaw race track at Sluzewiec has undergone some difficult times over the past decade. There are regular race meetings however the state of the stadium does not attract many spectators thus holding back any chances for further funding. In 2005 Poland held a total of 89 race meetings and 265 races, the majority of which were held in Warsaw. The racing season runs from May to December.
The Czech Republic's neighbour, Slovakia has a race track in the Bratislava district of Petržalka.
The main race track in Hungary is the Kincsem . It is 2000 metres in length and hosts racing all year round. Racing and the totalizator are organized by a state owned company.
Researched and Written by Colin Stewart, Casino Marketing Design
Gambling Law
Casinos are fast emerging as the best means of entertainment in Eastern Europe. There are a total of 18 countries with casinos in them and 1 with Pari-mutuel facilities in Eastern Europe. Casinos and gambling arcades in countries like Albania, Bosnia, Croatia, and Hungary etc. are getting increasing popularity. However, gambling in each country is governed by a set of law. Each country has its own rules and legalities.

Albania: Betting in Casinos started in late 2004 in Albania. The first casino was opened in October 2005 at the Hyatt Regency in Tirana. Then government decided to quadruple taxes on slot machines. Therefore Hyatt threatened to close down the much adulated casino joint. This casino has 22 tables and 240 slot machines.

Bulgaria: Evolution of the gaming law: Bulgaria has seen a substantial growth of the gaming industry in the last decade. There was no regulation on gaming till a few years back and now the country has a significant one. There was almost no gaming after 1989 with a few exceptions. Only a handful of hotels that hosted foreigners boasted of casinos.

And due to this lack of regulations, some old fashioned AWPs and slots began entering the country. This led to a frenzied growth without any consistent organization in the gaming industry. As a result a lot of low quality products and low payout percent were predominant in the market for nearly 3 years.

Gaming was made official in 1993 in Bulgaria through a Government Decree. This legalized casinos, Bingo Halls, Government lottery and Government Lotto. There were certain restrictions and limited payout. Gaming machines experienced rising popularity as a route operation in gaming locals, arcades and coffee shops.

Casino laws in Bulgaria: Gaming regulations were further developed and The Gaming Law was promulgated in 1998. A licensing system and new taxes were introduced. Changes were made in the definition and the requirements for gaming equipments. Clearly defined regulatory body and structure and enforcement of policies and procedures came into formulation.

As per these regulations, only licensed and specialized gaming locations/ casinos were allowed to operate gaming equipments. Restrictions were also placed in respect of foreign ownership of casinos and upfront licensing fees were required which is different for casinos, bingos and gaming arcades.

Casinos were not permitted anywhere within 300 meters of a school or university. Also no one under the age of 19 years or in a military uniform was allowed in the casinos.

Gaming Machines: The limited payout for the gaming machines was removed, however gaming equipments were allowed only after they were tested and approved by a specialized laboratory. Gaming equipments also required specific registrations before operation.

Other prohibitions: The law also prohibited any kind of publicity and mass media advertising of casinos. Strict regulatory and controlling agencies were formed to ensure that casinos are adhering to the new law.

New Law: However this law was yet again amended in 1999. This time licenses for gaming equipment manufacturers, service centers and distributors were introduced.

The casinos in Bulgaria can be categorized either as local casinos, tourist casinos or casinos for junket group which are mainly from Turkey and Israel. Usually these casinos have 3-5 gaming tables. This is due to the high double taxation – upfront payment per table and corporate tax on the income that is the number of the gaming tables per casino is optimized.

Slots: As far as slots are concerned, gaming owners in Bulgaria are allowed to have gaming arcades with a minimum of 10 slots in cities with less than 30,000 people. In cities with a population more than 30,000, gaming arcades must have a minimum of 10 slots.

The total number of legal gaming machines is 6,000 approximately. The number of gaming machines is kept to an optimal level due to the specifics in taxation system in Bulgaria, which is tied to a quarterly advance payment of a fixed tax per gaming seat/table, in addition to the corporate income tax.

For example, the required tax per gaming Roulette table is approximately 12,000 USD per quarter upfront payment followed by a corporate tax on the income amounting to up to 28%.For slots, the upfront tax is close to 200 USD per slot per quarter, or 20-30%of the gross revenue per machine for the same period.

The Bulgarian law requires that all the equipments placed in the casinos need to pass laboratory tests. They have to be certified for compliance by the local Gambling Laboratory. The payback percentage varies however it is not allowed to be less than 80%. The Bulgarian gambling law requires that,

Only active physical persons of legal age, which are not restricted by the present or any other Law, have the right to participate in gambling. The disabled ones have right to receive tickets for participation in lottery, Toto and Lotto games. Exceptions Art. 3

(1) Sports competitions with award fund for the participants are not considered as gambling.

(2) The following recreational or sport games, such as: recreational game constructions, Minifutball, pool or table-tennis, darts, bowling, paint-ball and speed-ball, mini-basketball, bridge, Trick-track and others are not considered as gambling, in spite of the fact, that the require stakes, or the usual practice is that the person, who lost should pay the expenses the game, providing, that the stake and the profit are not substantial.

(3) As not gambling games are considered the panel games, based on opening of the right answers or showing of knowledge and skills, providing, that the awards are not given for the account of the incomes deposited by the participants – tickets, phone taxes or in any other form.

The future of the gaming industry and its development is closely related to and is dependent on the incessant process of economic development of the country. The acceptance of the country in the European Union will be a positive factor in the future of the gaming business in not just Bulgaria, rather in the entire Eastern Europe.
Eastern Europe Stats
Eastern Europe Casino Stats
Countries w/ gambling:

21

Cities with gambling:

428

Total casinos:

1,535

Gaming tables:

4,623

Slot machines:

57,295

Poker rooms:

160

Sportsbooks:

154

Bingo halls:

26

Horse tracks:

7

Greyhound tracks:

1

Lotteries:

2
More Eastern Europe Gambling