Central America Casinos
For a list of casinos in a specific country of Central America, select a country from the list below. Only countries in Central America with gambling or casinos are listed.
Casino is closed



Central America Casinos and Gaming Guide
This section deals specifically with Central American casinos and gambling. Central America connects North and South America and includes seven countries and various offshore islands. Of them, all countries have casinos in them and one country has parimutuel facilities, primarily horse racing.
There are menu options above the main picture if you missed them, or click the following articles for specific gambling information available for this continent. Central American Poker for the poker guide, or Central American Lottery for Central American lottery results and lottery information or this page for the current gambling news in Central American countries.
Gambling industry in Central America
There are various legal and illegal casinos present in Central America, an industry that brings much enjoyment and revenue. Here is an overview of the industry:
The Central American countries with casinos include: Belize with two casinos, Costa Rica with 30, El Salvador with one, Honduras with two, Nicaragua with ten and Panama with 34 casinos. Along with South America it consists of over 286 casinos, an industry that is booming, despite Ecuador shutting down all of its casinos.
Veneto Hotel & Casino, Panama's newest tourist attraction that opened in 2005 November comprises of a luxury hotel cum casino. It received hundreds of foreign and local press corps and is set to be one of the most popular outlets soon. Poker is also well played and enjoyed in most parts of Central America.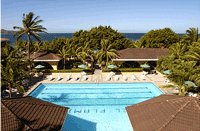 Central America Update January 10th 2014
All countries in Central America have some sort of casino; even some of the regions properties would rival Vegas casinos. Casinos in Central America can also be found in world class major resort complexes with something for all the family to participate in, including gambling.
All games played in the regions casinos are the traditional ones you would find in International casinos with the exception of Costa Rica. Roulette in Costa Rica casinos is called "Canasta" and is played with a double-zero layout. However, instead of using a roulette wheel the winning number is selected from a circular wire cage with numbered balls similar to the one used in bingo halls. Also the most popular game in Costa Rica is there equivalent of blackjack and is called "Rummy" where there are slightly different rules to International standards but the game is still a lot of fun.
The leading casinos across the region were owned or managed by 3 main International casino operators who are Turkey's Princess group of hotels and casinos, Canadian operator Thunderbird Resorts Inc. and Groupo Cordere of Spain. However in August 2010, Codere Group purchased Thunderbird's 63.6% stake in the six Fiesta casinos. Goupo Cordere is now the world's largest gaming operator as of the middle of 2013.
In possible the biggest casino news in the region Groupo Cordere has just finalised a deal to take over Thunderbird Resorts Inc.'s 6 Panama casinos by its own Crown Casino Group, which takes their total to 11 of Panamas 17 present casinos as of September 10th 2013. Thunderbird Resorts Inc. still has major operations in other Central American countries as does Groupo Cordere.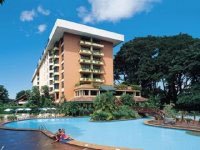 Panama is the powerhouse in the region with its 17 casinos taking in $1.6 billion in the last 10 years. In Panama gambling is tightly controlled and reported by the Junta de Control de Juegos which is a division of the Ministry of Economy and Finance.
Most of Panama's casinos are located in Panama City, followed by Chorrera. The nearby islands also have cruise ship casinos, a concept that attracts the rich across the world. High rollers from all over the world are can be found frequenting Veneto Panama, Casino Majestic and at the world famous El Panama.
On September 12th 2013 the recently built Trump Ocean Club in Panama City stated that work had restarted to build the largest casino in the region within the complex. The casino should help expand the customer base for the 369-room Trump, the largest hotel in Latin America.
Recently the Junta de Control de Juegos approved 2 more casinos for Panama and in the city of El Dorado the Golden Lion Casino has just opened Panama's 17th casino in the Central Park Hotel. Casino number 18 for Panama will be a 60,000-square-foot Casino in the town of Rio Hato at the Pacific Ocean Resort and will be operated by gaming group Blackbird International Corporation.
While the casino industry in Costa Rica generates nowhere near the financial returns as that of Panamanian casinos there are far more casinos there than any other country in the region with over 50. In mid August 2013 it was announced that the $38 million Croc's Resort, one of Central Americas most ambitious casino projects to date, would open in mid 2014.
It was widely expected that the casino industry in Costa Rica would suffer when the casino introduced strict new tax and opening hour laws, especially when casinos that were previously allowed to operate 24 hours had to curtail these to just 8 evening hours per day. Famous casinos in Costa Rica are the Del Rey, Horseshoe and on the Pacific Ocean the magnificent Paradisus Playa Conchal and Jazz Casino. Considered by many to be the most luxurious casino in Costa Rica, the Las Olas (The Waves) casino is located in the RIU hotel at Playa Matapalo, which is in the northern Guanacaste province.
A wild card in Central American casino gambling is Mexico which has huge potential but due to various factors has not achieved this. Gambling in Mexico dates back to the Aztecs, and the most popular forms involve betting on sports, races or fights. Common stereotypes depict Mexico as lawless or lax at best. Until 2004, nearly all forms of gambling were technically illegal in Mexico but then these laws were being loosened, and casinos and mini-casinos were popping up across the country. Mexico's grand casino expansion came crashing down after the gangland fire-bombing of Monterrey's Casino Royale in August 2011 which killed 53 people and many casinos have closed, it looks like gambling in many forms will not be expanding any time for many years to come.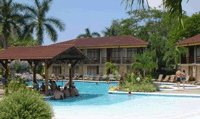 Central America's surprise package when it comes down to casino gambling is the tiny nation of Belize which has 8 casinos and 4 of them are owned and operated by the powerful Princess Group. Princess Group has now amassed 34 casinos around the world making them one of the top 10 operators including more in Central America. Princess Belize is undoubtedly the country's finest casino and operates in the Free Zone.
Nicaragua also has 10 casinos with again Princess Group having the countries best casino, Princess Managua, and Thunderbird Resorts Inc. the main operators. Pharaohs Group has 4 casinos and all are top notch International standards.
Three other countries make up Central America and all have up to five casinos. Honduras has had the same four casinos for many years, two in the capital Tegucigalpa of which the Excelsior casino is the one the foreign tourist have a distinct like for. Tiny El Salvador has had casinos going back decades but only has two at the moment. Finally Guatemala is another country where Thunderbird operates albeit in a difficult climate with the Government constantly changing rules on whether table games are allowed.
Central America Poker Scene
Poker is not just played and enjoyed in Central America, but conventions are also held here. A Poker Industry Conference and Exposition was held in the weekend of December 3-4, 2005 in Costa Rica at the Barcelo San Jose Palacio. This event covered the business of poker, focusing on management, marketing and technology. Tournaments were held at the event and best of the poker strategies, tactics and playing skills by poker executives and some of the most seasoned poker players were brought to light.
Pari-mutuel wagering in Central America
This industry is also catching on, but is not as popular in Central America as in other locations. Only one horse racinos is present in Panama City called the Hipódromo Presidente Remon. However betting is prevalent on sports such as racing on bikes, boats and cycles and statistics reveal that this will soon gather more prominence. For a more complete and up to date synopsis on this, read our Central American pari mutuel article.
Pari-mutuel
Central America consists of 8 countries with Mexico the northern most and Panama the southern most (yes, depending on who you ask, Mexico can be considered North America). It is in Mexico and Panama where the vast majority of pari mutuel activity is to be found, while the other 6 countries of Belize, Costa Rica, Honduras, Nicaragua, Guatemala and El Salvador, lack the population and infrastructure to host large events such as horse racing or greyhound races.
Panama Horse Racing at President Remon
Horse racing
is very popular in
Panama
and the country has only one race track which is the
President Remon Racetrack and Casino
in Panama City. The track is open everyday with national races on Thursdays. It only cost $1 to get entry which you get back if you're betting. The Crown Hipodrome Casino has been open here with a view of the races since 2007.
Unique to Panama is horse barrel racing and is so big there that they are part of the National Barrel Horse Association. Panama also has the largest number of sports book outlets of any other Central America country, many of the regions largest casinos also have them inside.
Mexico Greyhound Races, Horse Races and Jai Alai
Mexico
has more Pari mutual action than the rest of Central America where the
Hipodromo de las Americas
at one time had an attendance of over 43,000 and at the track there is enough stabling room for 1700 horses.
Mexico is also the only country in Central America that is home to the Basque game of Jai Alai. In Mexico the Fronton Palacio Tijuana Jai Alai first opened in 1947, sadly it closed in 1998 two years after Mexico City's Mexico Fonton closed its doors. Although Jai Alai thrives in other Latin America countries such as Argentina, Uruguay, Brazil, Paraguay, Chile and Peru, Colombia and Venezuela, it has disappeared from the venues in Central America although Mexico still sends a national team to major championships around the world.
Greyhound racing is not as popular as it is in North America and in fact is being run out of business almost everywhere due to bad publicity from animal rights activists. Mexico is one of the few countries that meet the exacting standards set by the World Greyhound Racing Federation. http://www.worldgreyhoundracingfederation.com. In Tijuana the Agua Caliente Racetrack offers races daily, the track was originally built for horse racing which has now discontinued.
The rest of Central America
Minor horse racing festivals have been held in
Guatemala
and
Costa Rica
in past years. Guatemala has some annual horse races in Todos Santos Cuchumatán, but not the kind you're thinking about. (
click here for photo
).
Despite the lack of parimutuel facilities, even the smaller countries of Central America you will always find sports betting, usually in the casinos. Costa Rica is known as one of the major sports book centers of the world; San Jose alone probably has 50+ physical sports book facilities. Many countries also have OTB's where bets can be made on the horse and greyhound races in Mexico and Panama.
Gambling Law
This article is not extensive and is intended only as a general guideline to the casino and gambling laws that govern this location. Let us have a look at the casino laws and their evolution in some of the countries:


Casino Laws in Belize:

The Prime Minister and Minister Responsible for Gaming Control in Belize, Musa, has approved new gambling regulations. There are adjustments to the online gaming regime for a more efficient processing and monitoring capacity, in addition to a reduction of licensing fees.


Casino Laws in Costa Rica:

Casino regulations were established in the year 1886 and 1992. Casinos developed in Costa Rica as a major source of tourist attraction during 1990. By 1999 there were about 30 casinos in Costa Rica. For casinos to be legal, they have to be accredited and approved by the Tourist Board of Costa Rica.

They must be situated in a hotel rated 3 stars or above. They should be atleast 100 meters (or one block) away from places of worship, hospitals, clinics and schools. Anyone under 18 years old is not allowed in the casinos.

If anyone failed to fulfill these requirements, it would call for imprisonment of the owner of the Casino and/ or a cancellation of the Casino's license.

Casinos are also required to pay municipality operational fees, facility health permits, and any other tax applicable just like other businesses based in Costa Rica. In addition they pay an extra 10% on the monthly net revenues and for the number of game tables that they host they usually pay 50,000 colons ($162.00 exchange rate of October 10, 2000) per table.

In Costa Rica it is a crime to earn or lose money by placing a bet on the profit of a game, event, activity or behavior. Also by placing a bet in a game whose produce is based on people's luck and not on their abilities and skills to play the game. Hence it is illegal to accumulate or earn money based on the outcome of bets or games such as Baccarat, dice, Twenty-one, Poker, Black jack, lotteries - except for the National Lottery managed by the Costa Rican organization called "Junta de Proteccion Social - Bingo - except those organized by the Red Cross and educational organizations such as Schools - and Roulettes.

However, it is legal to play any of the following games: Billiard, card games, Canasta, Draughts (U.S. checker), Domino, Casino, Rummy, Dart, 13, Caribbean Straight Poker, or any game where the person's abilities and skills will determine the outcome of the game. There are legal games according to the law as well as illegal games and games that are not clearly defined by law that are hosted by the casinos in Costa Rica. Some of the popular games that are played are rummy, and Caribbean Straight Poker. Games that are not clearly defined by law and are carried on in the Casinos of the country are certain types of games using the dice as well as Pai Gow - Chinese style Poker.

Casinos also host games that are prohibited by law such as Roulette and gambling machines. Roulette is outlawed by the following laws: Article 3 of the "Reglamento a la Ley de Juegos," January 24, 1974 decree # 3510-G, published in "el Alcance #15 de la Gaceta #21" on January 31, 1974, and " Reglamento a la Ley #3," on August 31, 1922.

Gambling machines are forbidden by the decree number 87,229 issued on June 13, 1978 that prohibits gambling machines. However, an appeal was filed against this decree; this appeal essentially permits casinos to host these machines until the appeal is considered.

It is against the law to either collect or pay monies for most of the bets and gambling games in Costa Rica. Therefore the gambling industry operates on a payment system to outperform these laws. This helps the casinos to hold the player legally liable for what they owe them or to be able to pay you at their facilities.

Casinos persuade the players to buy tokens that are used at their casino facilities, or they give the gamblers a credit line by signing letters of credits, promissory notes (I. O. U. notes), mortgages, or written agreements so that installments or collections can be performed and that they are still sheltered by regular business laws, and not gambling.

There are no laws in Costa Rica that protect or regulate either the gambler or the casino owner from collecting monies created by gambling.


Casino Laws in El Salvador:

Gambling and Gaming Machines are not prohibited to operate in El Salvador. However these gaming machines are subject to authorization by the Ministry of Finance and local municipalities. Roulette wheels, gambling tables, and any other item or article used for gambling must be approved.


Racinos in Central America

Racinos were not so popular till a few years back in Central America. Only one horse Racino was present in Panama City called the Hipódromo Presidente Remon. However betting is prevalent on sports such as racing on bikes, boats, and cycles and statistics indicate that this will soon gather more prominence.

Various legal and illegal casinos and Racinos of the continent of Central America help by contributing to the revenue generation and attracting of tourists. Hence, this leads to the birth of Casino laws.


Gaming Law in Central American countries: conclusion

There are cutting edge developments in gambling law in Central America. The world's newest technologies are also being brought into this side of the world. In other words, beautiful surroundings and highly developed gambling industry are going to give North America as well other favorite gambling destinations stiff competition.
Review Continent

kashif
Posted on December 4th, 2010


+1 votes

kashif
Posted on December 4th, 2010


+1 votes

kashif
Posted on December 4th, 2010


+1 votes
SHOW ALL COMMENTS (6)
Central America Stats
Central America Casino Stats
Countries w/ gambling:

7

Cities with gambling:

36

Total casinos:

134

Gaming tables:

699

Slot machines:

17,665

Poker rooms:

20

Sportsbooks:

10

Bingo halls:

15

Horse tracks:

0

Greyhound tracks:

0

Lotteries:

1
More Central America Gambling