Canada casinos
and gambling guide
Review Country

alexmorin1001
Posted on October 15th, 2015




+1 votes

Guest
Posted on February 25th, 2015


+1 votes

Jojoriko
Posted on March 7th, 2019




+1 votes

lars
Posted on February 28th, 2015




+1 votes

Guest
Posted on January 29th, 2014


+1 votes

Bernard Richter
Posted on January 29th, 2014




+1 votes
Canada Casino & Gambling Overview
Casinos in Canada
Gambling in Canadian Casinos is an excellent opportunity for gamers. Bask in the thrill of over 100 casinos to choose from for those who prefer large casinos, lots of gambling thrills without any disappointments. Canada's casinos are top notch with a vast selection slot machines and table games available to the general gambling public. Horseracing is a big attraction here including Greyhounds and Racinos that have reached great success. Canadian Pari-Mutuel facilities are becoming popular as well as for tourists that travel to Canada for casino gambling.
Ontario has the most casinos and gambling establishments in the entire country.  During your visit in Ontario be sure to make time to visit the casinos in Niagara Falls. It is where you'll find some of the finest casino gambling available in Canada. The Casino Niagara and the Niagara Fallsview Casino Resort are two perfect locations for impressive casinos in Canada. They both provide players with thousands of slots. At the Niagara Fallsview Casino Resort, it has a staggering three thousand slot machines plus for the table players, there are hundred and fifty games. Head over to Casino Niagara and find twenty-four hundred slots in addition to seventy-nine table games like Blackjack, Roulette, Baccarat, Caribbean Stud Poker, Let it Ride, Craps, Pai Gow Poker and Spanish 21.
As the graphic below shows, Canadians like to play slots more than any other casino game, but nearly half of casino visitors play blackjack too.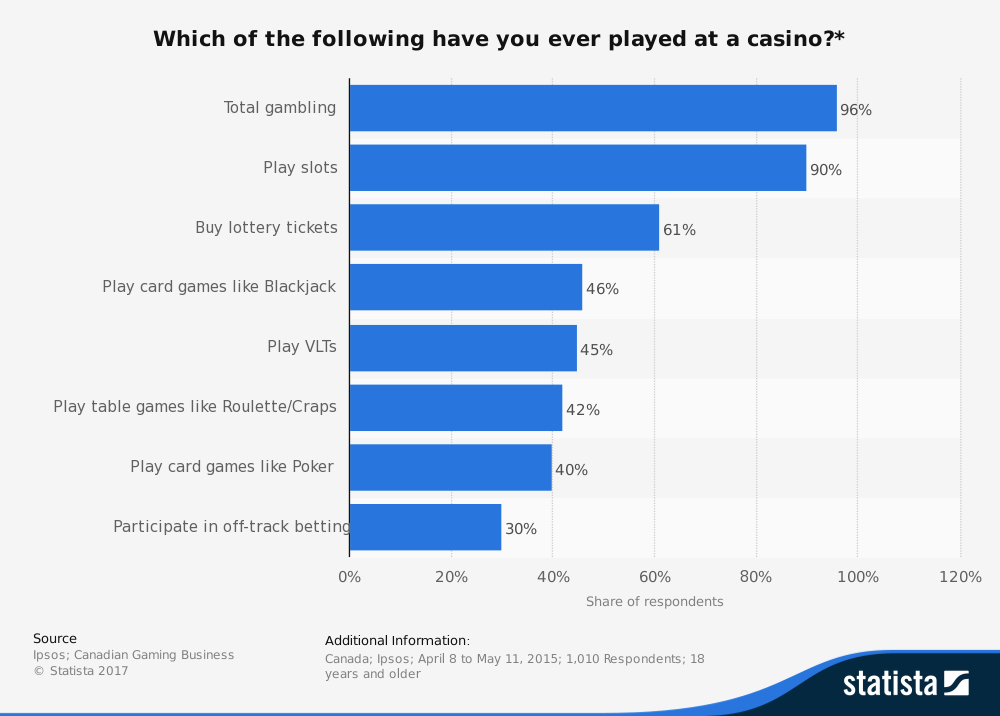 Woodstock, Ontario is another popular Canadian city where gambling takes place.  At Woodstock Racetrack there are one hundred one arm bandits. Horseracing is a great reason to be in Canada.
Alberta won't disappoint the gambling community as it takes flight and soars to new heights. In Calgary, Alberta, Canadian we suggest Cash Casino with six hundred slot machines and that's not all because there are twenty-eight casino games. Six of these games include Poker Tables. Additionally, there is Blackjack, Mini-Baccarat, Roulette and Red Dog is also popular choices. If you are aiming for more poker like Caribbean Stud Poker, Pai Gow poker, Seven Card Stud Poker and Texas Hold'em Poker available at the Stampede Casino in the Canadian city, Calgary, in Alberta. Have your pick of twenty-five table games and two hundred and thirteen slot machines at the Stampede.
Nova Scotia, Canada is another popular casino gambling location within Canadian borders. Sydney, Nova Scotia is another great city in Canada in which one may find casino gambling opportunities. Casino Nova Scotia invites players to three hundred and seventy-eight slots and eleven table games. In Nova Scotia, avid poker players may find the games are quite amazing. Also, you'll find Blackjack, Let it Ride and Roulette tables. The Yukon Territory offers Canadian Casino gambling as well. Dawson City, Canada offers casino gamblers in Canada sixty-four slot machines and ten casino table games at Diamond Tooth Gerties Gambling Casino. Two of the table games are dedicated to poker. Canadian poker players are often found at Diamond Tooth Gertie's Casino.
Online gambling in Canada
What is intriguing is the fact some online casinos restrict Canadian players, therefore, to find a casino that accepts this region can be challenging. Please check the Canada Online Casino Directory. Enjoy!
Casinos and Gambling Facts
Canada is a country in North America with legal gambling. Canada is divided into provinces and then cities. There are 11 states with gambling facilities in Canada which have 219 legal gambling facilities available in total.

The types of gambling available in Canada are: casinos, horseracing tracks, sportsbetting parlours.

The largest of the provinces in Canada is Ontario with 73 gambling facilities, 902 tables games, 33,016 gaming, slot, and video poker machines. The largest gambling city in Canada is Edmonton, Alberta with 14 gambling facilities, 171 tables games, 4,940 gaming, slot, and video poker machines.
The largest casino in the entire country of Canada is Casino Montreal which is located in Montréal, Quebec. Casino Montreal has 115 table games, 26 poker tables, 3,000 gaming and video poker machines.
Canada Casino Statistics
Coming Soon Casinos
Jun 1


2020

Delta, British Columbia
Apr 1


2019

South Edmonton, Alberta
TBD
Pickering, Ontario
May 5


2018

Victoria, British Columbia
Dec 21


2018

Lloydminster, Alberta
Newest casinos
Aug 8


2019

Chatham, Ontario
Apr 1


2019

South Edmonton, Alberta
Dec 21


2018

Lloydminster, Alberta
Oct 15


2018

Shorelines Casino Peterborough

Peterborough, Ontario
Sep 26


2018

Edmonton, Alberta