Canada Casinos
Average Rating
4.4 /

5
Canada Casino Map
up to

test
Loading...
There are no available casinos for requested criteria.
Something went wrong. Please try again later.
Casino is closed



About Canada Gaming
Casinos in Canada
Gambling in Canadian Casinos is an excellent opportunity for gamers. Bask in the thrill of over 100 casinos to choose from for those who prefer large casinos, lots of gambling thrills without any disappointments. Canada's casinos are top notch with a vast selection slot machines and table games available to the general gambling public. Horseracing is a big attraction here including Greyhounds and Racinos that have reached great success. Canadian Pari-Mutuel facilities are becoming popular as well as for tourists that travel to Canada for casino gambling.
Ontario has the most casinos and gambling establishments in the entire country.  During your visit in Ontario be sure to make time to visit the casinos in Niagara Falls. It is where you'll find some of the finest casino gambling available in Canada. The Casino Niagara and the Niagara Fallsview Casino Resort are two perfect locations for impressive casinos in Canada. They both provide players with thousands of slots. At the Niagara Fallsview Casino Resort, it has a staggering three thousand slot machines plus for the table players, there are hundred and fifty games. Head over to Casino Niagara and find twenty-four hundred slots in addition to seventy-nine table games like Blackjack, Roulette, Baccarat, Caribbean Stud Poker, Let it Ride, Craps, Pai Gow Poker and Spanish 21.
As the graphic below shows, Canadians like to play slots more than any other casino game, but nearly half of casino visitors play blackjack too.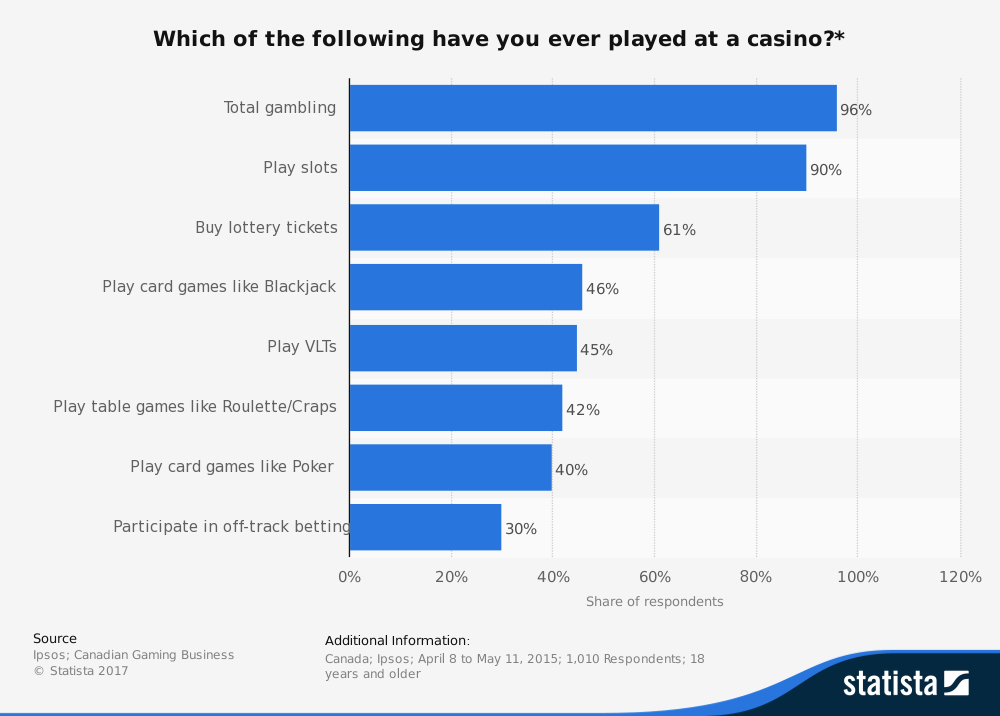 Woodstock, Ontario is another popular Canadian city where gambling takes place.  At Woodstock Racetrack there are one hundred one arm bandits. Horseracing is a great reason to be in Canada.
Alberta won't disappoint the gambling community as it takes flight and soars to new heights. In Calgary, Alberta, Canadian we suggest Cash Casino with six hundred slot machines and that's not all because there are twenty-eight casino games. Six of these games include Poker Tables. Additionally, there is Blackjack, Mini-Baccarat, Roulette and Red Dog is also popular choices. If you are aiming for more poker like Caribbean Stud Poker, Pai Gow poker, Seven Card Stud Poker and Texas Hold'em Poker available at the Stampede Casino in the Canadian city, Calgary, in Alberta. Have your pick of twenty-five table games and two hundred and thirteen slot machines at the Stampede.
Nova Scotia, Canada is another popular casino gambling location within Canadian borders. Sydney, Nova Scotia is another great city in Canada in which one may find casino gambling opportunities. Casino Nova Scotia invites players to three hundred and seventy-eight slots and eleven table games. In Nova Scotia, avid poker players may find the games are quite amazing. Also, you'll find Blackjack, Let it Ride and Roulette tables. The Yukon Territory offers Canadian Casino gambling as well. Dawson City, Canada offers casino gamblers in Canada sixty-four slot machines and ten casino table games at Diamond Tooth Gerties Gambling Casino. Two of the table games are dedicated to poker. Canadian poker players are often found at Diamond Tooth Gertie's Casino.
Online gambling in Canada
What is intriguing is the fact some online casinos restrict Canadian players, therefore, to find a casino that accepts this region can be challenging. Please check the Canada Online Casino Directory. Enjoy!
Canada Casinos and Gambling Facts
Canada is a country in North America with legal gambling. Canada is divided into provinces and then cities. There are 11 states with gambling facilities in Canada which have 223 legal gambling facilities available in total.

The types of gambling available in Canada are: casinos, horseracing tracks, sportsbetting parlours.

The largest of the provinces in Canada is Ontario with 73 gambling facilities, 1,039 tables games, 34,064 gaming, slot, and video poker machines. The largest gambling city in Canada is Calgary, Alberta with 15 gambling facilities, 290 tables games, 6,627 gaming, slot, and video poker machines.
The largest casino in the entire country of Canada is Great Canadian Casino Resort Toronto which is located in Toronto, Ontario. Great Canadian Casino Resort Toronto has 145 table games, 30 poker tables, 4,800 gaming and video poker machines.
Gambling History
History of Gambling in Canada
Gambling was first brought to Canada by the early French settlers, though by 1892 Canada had imposed a complete ban on gambling in all provinces. Since that time, the government has been gradually lifting the ban.
The Criminal Code of Canada first allowed certain forms of gambling back into circulation by reforming the law to create a charitable gaming exemption. Small scale gambling activities were allowed, leading to an amendment of the Criminal Code in 1969 that gave provincial governments the opportunity to offer federal and state-run lotteries. These lottery programs were utilized to fund various needs of Canada, such as the 1976 Olympics in Montreal.
As the 1970's rolled around, Quebec had established two separate Crown corporation - one to supervise provincial lotteries and the other to supervise horse racing. The citizens of Quebec had long sought legalization of gambling, therefore welcomed the introduction of these corporations with open arms.
Seeing the rampant success of Quebec's new systems, other provinces quickly jumped on the band wagon. Manitoba established a lottery system in 1971, followed by Alberta and Saskatchewan. British Columbia conjoined with the Manitoba, Saskatchewan and Alberta lotteries in 1974, establishing the now famous Western Canadian Lottery Foundation.
Casino gambling worked it's way back to legal status as well, with casinos now operating legally in all provinces with the exception of Newfoundland and Labrador, New Brunswick and Prince Edward Island.
The specific gambling laws distinctly differentiate between the types of casino gambling machines that are and are not legal in individual provinces - Slot Machine and Video Lottery Terminals (VLT's). Slot machines are legal in all of the provinces, aside from those listed above where casino gambling is prohibited. VLT's, on the other hand, are legal in all provinces except for British Columbia and Ontario.
Canada now retains a massive revenue whose rapid growth began with further amendments to the Canadian Criminal Code in 1985. Gambling has since become an enormous business in Canada and continues to grow with increasingly profitable success.
Review Country

alexmorin1001
Posted on October 15th, 2015


+1 votes

Guest
Posted on February 26th, 2015


+1 votes

lars
Posted on February 28th, 2015


+1 votes

Guest
Posted on January 29th, 2014


+1 votes

Bernard Richter
Posted on January 29th, 2014


+1 votes