Poker cruises / tournaments on cruise boats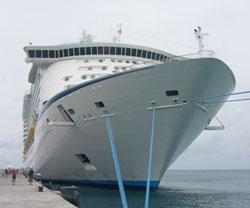 Poker on the high-seas or showdown in paradise - Take a poker cruise
As the popularity of poker continues to grow, so does the quest for new and more exciting places to play the famed game. Texas Hold'em tournaments especially draw large interest. Cruiseships have become a part of nearly every other industry, so why not poker? And as we shall see there are plenty of tournaments on cruise ships. If not you certainly will be able to find a game in the ship's casino.
A few popular cruise venues for poker players
Classic Poker Cruises - Offering poker tournaments on ships - They have a fully staffed poker room on the ships which features, Omaha, 7 Card Stud and Texas Hold'em. You can win a $10,000 seat in the World Poker Championship or a future poker cruise. Definetly fun for the entire family if some don't gamble, plenty of regular cruise excursions, etc. to take part in.
World Poker Showdown - Slightly more serious poker, but still a very fun relaxed even for the non-gambler. $2,500 - World Poker Showdown cruises have had people like Chris Moneymaker and Greg Raymer. Tournaments can range from $100 buy-ins to $2,500 (the championship event for the cruise)
Ladbrokes - Ladbrokes also puts on a poker cruise. Poker Cruise III in fact will set sail on January the 25th, 2008. It sails from New York to Puerto Rico to St. Thomas to the Dominican Republic and Labadee, an exclusive private beach. As for poker on the ship, there is a $2,500 main tournament and a ladies $10,000 freeroll tourney! -- There will be lots of other cash games and STT's to take part in.
Poker Cruises in the news....
February 21st, 2014
Operators expect a soft launch by early March The long wait for day casino cruises to resume at the Port of Palm Beach may soon be over.        
February 18th, 2014
After Seven Marine launched its unprecedented 557 hp outboard engine in 2011, the Germantown, Wis.-based company steadily increased market share in the global outboard engine segment.
March 3rd, 2014
YARMOUTH — The most popular card game in ship-board casinos is blackjack, says a senior casino executive, now preparing to outfit the new Yarmouth ferry Nova Star with a casino like no other.
February 16th, 2014
Those player's club cards that earn points toward free play and casino comps are evolving into ways to generate discounts at nongambling attractions. "They're gearing ...
February 27th, 2014
The Fine Arts Work Center, 24 Pearl St. in Provincetown, offers weeklong workshops in Creative Writing and the Visual Arts, June 15 through Aug. 29 . It's not too early to sign up – registration is on a first-come, first served basis. Visit www.fawc.org/summer for information and registration.
Poker Cruise News Feed by Google