Poker cruises / tournaments on cruise boats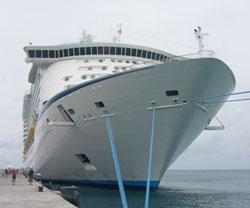 Poker on the high-seas or showdown in paradise - Take a poker cruise
As the popularity of poker continues to grow, so does the quest for new and more exciting places to play the famed game. Texas Hold'em tournaments especially draw large interest. Cruiseships have become a part of nearly every other industry, so why not poker? And as we shall see there are plenty of tournaments on cruise ships. If not you certainly will be able to find a game in the ship's casino.
A few popular cruise venues for poker players
Classic Poker Cruises - Offering poker tournaments on ships - They have a fully staffed poker room on the ships which features, Omaha, 7 Card Stud and Texas Hold'em. You can win a $10,000 seat in the World Poker Championship or a future poker cruise. Definetly fun for the entire family if some don't gamble, plenty of regular cruise excursions, etc. to take part in.
World Poker Showdown - Slightly more serious poker, but still a very fun relaxed even for the non-gambler. $2,500 - World Poker Showdown cruises have had people like Chris Moneymaker and Greg Raymer. Tournaments can range from $100 buy-ins to $2,500 (the championship event for the cruise)
Ladbrokes - Ladbrokes also puts on a poker cruise. Poker Cruise III in fact will set sail on January the 25th, 2008. It sails from New York to Puerto Rico to St. Thomas to the Dominican Republic and Labadee, an exclusive private beach. As for poker on the ship, there is a $2,500 main tournament and a ladies $10,000 freeroll tourney! -- There will be lots of other cash games and STT's to take part in.
Poker Cruises in the news....
August 19th, 2014
LaDonna K. McCormack, of Benton died Friday, July 4, 2014, at Baptist Medical Center in Little Rock. She was born on July 13, 1941 to Grady and Louise Talkington Kinder in Moreland (Pope County). She graduated from Dover High School and Arkansas Tech University.
August 8th, 2014
Nine Mile Falls Dam Days Starting today at 6 p.m. we'll be "Bringing Back the '80s" with dinner and showing of "Footloose" under the stars, live and silent auctions and a teen dance. Saturday's events start at 6:30 a.m. with Dam Days 5K run/walk, Kids Zone, Trading Post Vender Fair, Donkey Plop, Chuck Wagon Row, Dam Jam Music Festival. Nine Mile Falls Elementary School, 10102 W. Charles Road ...
August 19th, 2014
Events in Northeast Florida for Aug. 20-28.
Poker Cruise News Feed by Google