Poker cruises / tournaments on cruise boats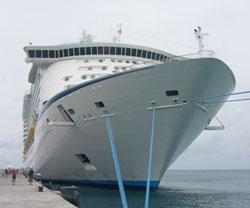 Poker on the high-seas or showdown in paradise - Take a poker cruise
As the popularity of poker continues to grow, so does the quest for new and more exciting places to play the famed game. Texas Hold'em tournaments especially draw large interest. Cruiseships have become a part of nearly every other industry, so why not poker? And as we shall see there are plenty of tournaments on cruise ships. If not you certainly will be able to find a game in the ship's casino.
A few popular cruise venues for poker players
Classic Poker Cruises - Offering poker tournaments on ships - They have a fully staffed poker room on the ships which features, Omaha, 7 Card Stud and Texas Hold'em. You can win a $10,000 seat in the World Poker Championship or a future poker cruise. Definetly fun for the entire family if some don't gamble, plenty of regular cruise excursions, etc. to take part in.
World Poker Showdown - Slightly more serious poker, but still a very fun relaxed even for the non-gambler. $2,500 - World Poker Showdown cruises have had people like Chris Moneymaker and Greg Raymer. Tournaments can range from $100 buy-ins to $2,500 (the championship event for the cruise)
Ladbrokes - Ladbrokes also puts on a poker cruise. Poker Cruise III in fact will set sail on January the 25th, 2008. It sails from New York to Puerto Rico to St. Thomas to the Dominican Republic and Labadee, an exclusive private beach. As for poker on the ship, there is a $2,500 main tournament and a ladies $10,000 freeroll tourney! -- There will be lots of other cash games and STT's to take part in.
Poker Cruises in the news....
April 24th, 2014
Due to their continuing success in Port Canaveral, Victory Casino Cruises is getting ready to deploy the Victory II in Jacksonville, Florida. (PRWeb April 24, 2014) Read the full story at http://www.prweb.com/releases/2014/04/prweb11791253.htm
April 22nd, 2014
White River Jct., Vt. — David A. Ring, 61, born Nov. 2, 1952, passed away Saturday night April 19, 2014, at the Dartmouth-Hitchcock Medical Center in Lebanon, N.H., surrounded by friends and family.
April 5th, 2014
Casino cruise ship launches with $3 million makeover Island Breeze executives hope the gambling winds blow favorably. Owners of the refurbished ship, which sails out of the Port of Palm Beach, launched a soft opening March 15 but are now ready to go full-sail.
April 23rd, 2014
Sex. Drugs. Rock 'n' roll. Mötley Crüe's show at the Reno Events Center on Wednesday night undeniably proved two-thirds of that mantra to be true beyond a shadow of a doubt.
April 19th, 2014
Car club events and gatherings in and around the Ventura County area.
Poker Cruise News Feed by Google