Top Online Casinos
Casinos and Gambling Facts
Puerto Rico is a country in Caribbean with legal gambling. There are 11 cities with gambling facilities in Puerto Rico which have 16 legal gambling facilities available in total.

The types of gambling available in Puerto Rico are: casinos, horseracing tracks.

The largest gambling city in Puerto Rico is San Juan with 6 gambling facilities, 107 tables games, 2,349 gaming, slot, and video poker machines.
The largest casino in the entire country of Puerto Rico is Caguas Real Hotel & Casino which is located in Caguas. Caguas Real Hotel & Casino has 10 table games, 570 gaming and video poker machines.
Visit Pagat to view a complete list of card games played in Puerto Rico.
Puerto Rico Casino Stats
| | |
| --- | --- |
| Casinos: | 16 |
| Cities with Gambling: | 11 |
| Horse Tracks: | 1 |
| Casino Hotels: | 15 |
| Venues: | 13 |
| Restaurants: | 53 |
| Table games: | 214 |
| Slot machines: | 5,140 |
| Poker tables: | 4 |
| Minimum Bet: | $0.01 |
| Total Casino sq/ft: | 201,390 sq/ft |
| Total Convention sq/ft: | 394,141 sq/ft |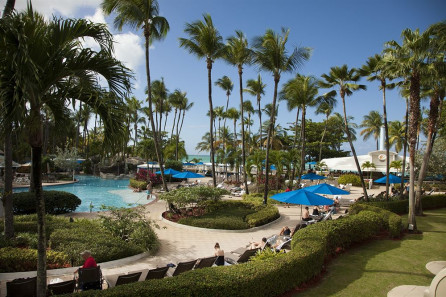 Puerto Rico Casino Gambling Review
Puerto Rico Casinos & Gambling
Puerto Rico could rightly call itself the capital of Caribbean casino gambling. The Commonwealth of Puerto Rico is one of the hottest spots for land-based casino gaming in Latin America, with plenty of casino hotels and resorts spread along its coasts. Gambling is a major industry in Puerto Rico, which brings in untold revenues for the US territory and makes up a sizeable part of their income, mainly through tourist gamblers.
Games of Chance Act
Puerto Rico has one of the longest standing gambling acts in the world. Their Games of Chance Act first appeared in 1948, although several amendments have been made in recent years, such as those surrounding video-lottery machines. Puerto Rican gambling laws stipulate that casino games can only be played in the casino resorts and hotels scattered across the territory. Puerto Ricans are also entitled to wager on horse races at the Hipódromo Camarero Racetrack. Electronic games and more traditional Puerto Rican gambling games like blackjack, roulette, and craps are strictly regulated by the Committee of the Puerto Rico Hotel and Tourism Association.
A wealth of land-based casinos
The main source of income from gambling enterprises comes from the casino hotels and resorts. Some of the hottest places to gamble in the Caribbean are located in Puerto Rico. These land-based casinos include the Casino del Mar at La Concha Resort, El Tropical Casino, Hilton Ponce Golf & Casino Resort, Rio Mar Casino at Wyndham Grand, and the Condado Plaza Hilton Hotel & Casino. Players will find luxurious Caribbean casinos located in Rio Grande, San Juan, Dorado, Carolina, Humacao, Mayagüez and Ponce, among other places. Millions of people travel to Puerto Rico every year to place at these exotic gambling resorts.
The trouble with slot machine parlours
The Puerto Rican gambling industry – despite being well regulated in regard to resort gambling– has come under some stress from illegal gaming parlours over recent years. As a result of this, there are many illegal gambling houses carrying slot machines. A number of Puerto Rican casinos have closed due to this illegal industry cutting heavily into their profits. In recent years, the owners of the casinos have attempted to urge Puerto Rican regulators to adjust the laws, or make the current laws more transparent, to shut down these illegal gambling hotspots. So far, little has been done to stop them. On December 4, 2014 Justice Secretary Cesar Miranda announced that 431 illegal gambling machines had been seized in a raid culminating from an undercover investigation that lasted a year and a half. The Justice Secretary estimates there are more than 45,000 illegal gambling machines still in operation.
Online gambling in Puerto Rico
Online gambling in still possible in Puerto Rico. At a rough count, there can be as many as 250 online casinos at any one time that offer English or Spanish language gameplay to the players in Puerto Rico. In most cases, these casinos also offer the US Dollar as a valid currency option. Most of the online casinos offering their services to players based in Puerto Rico are offshore casinos sites, in that they aren't actually based in Puerto Rico. There seems to be little problem in allowing Puerto Ricans to play at these offshore online casino sites, at this moment in time.
Puerto Rico Casino Jobs
Full Puerto Rico Casino Jobs
Must possess and be able to maintain a current Health Card, Liquor License, or other required certifications as required by geographical area of the property....
Must be able to communicate effectively and in a friendly manner with customers and employees at all levels. Equal Opportunity Employer....
He loves being outside, and likes to relax too especially on those cold days. He loves to play cars, build houses with his blocks , read YOU stories and will...
Ensures that all cashiers are working in accordance with casino safety standards. Able to assist in troubleshooting and resolving cashier problems along with F...
Specific vision abilities required by the job include close vision, distance vision, color vision, peripheral vision, depth perception and the ability to adjust...
Puerto Rico Rating
4.0 / 5
Browse Puerto Rico by city
Puerto Rico Gambling