Top Online Casinos
Casinos and Gambling Facts
Vietnam is a country in East Asia with legal gambling. There are 11 cities with gambling facilities in Vietnam which have 28 legal gambling facilities available in total.

The types of gambling available in Vietnam are: casinos.

The largest gambling city in Vietnam is Ho Chi Minh City with 10 gambling facilities, 10 tables games, 230 gaming, slot, and video poker machines.
The largest casino in the entire country of Vietnam is Ho Tram Resort Casino Vietnam which is located in Vũng Tàu. Ho Tram Resort Casino Vietnam has 90 table games, 2 poker tables, 614 gaming and video poker machines.
Visit Pagat to view a complete list of card games played in Vietnam.
Vietnam Casino Stats
| | |
| --- | --- |
| Casinos: | 28 |
| Cities with Gambling: | 11 |
| Casino Hotels: | 23 |
| Venues: | 22 |
| Restaurants: | 80 |
| Table games: | 280 |
| Slot machines: | 1,510 |
| Poker tables: | 2 |
| Minimum Bet: | $0.02 |
| Maximum Bet: | $20,000 |
| Total Casino sq/ft: | 187,374 sq/ft |
| Total Convention sq/ft: | 275,273 sq/ft |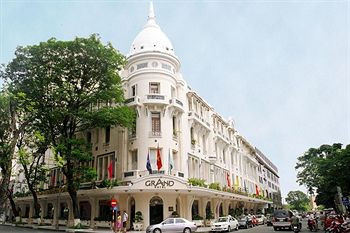 Vietnam Casino Gambling Review
Vietnam Casinos & Gambling
Vietnam is a Far East Asian country that currently forbids citizens from gambling (mid-June, 2014) but the legality may soon change as the National Assembly has recently come out saying it is only a matter of time before casinos are open to Vietnamese citizens. Currently only foreign passport holders (some Vietnamese hold foreign passports) are allowed into the casinos and gaming clubs to gamble. There are seven casino licenses in the country as well as about 40 "Gaming Clubs". Casinos are allowed to host actual Las Vegas or Macau style table games, while the gaming clubs, mostly located next to the lobbies of 4 and 5 star hotels, have "entertainment devices" such as slots, video poker, electronic blackjack, roulette, and baccarat.
The casinos and gambling games of Vietnam
By far the largest venue opened so far in Vietnam is the Grand Ho Tram Strip on the beach near Vung Tau. The Grand Ho Tram Strip has about 100,000 square feet of gambling space in the  4.5-star resort that includes a fitness center, a spa tub and  sauna, several  fine dining venues, and a nightclub among other upscale amenities. Another major development is the opening of the new Aristo International Hotel & Casino (formerly Lao Cai International) on the border with Yunnan Province, China by Donaco International Limited. Donaco is headed up by the two brothers, Lim, (managing director  Joey Lim Keong Yew) the nephews of  Tan Sri Lim Kok Thay, the Chairman and Chief of Genting Group. According to Mr. Lim, 99% of their business comes from China.
More large scale Integrated Resort development is in the exploratory or planning stages including movements by Las Vegas Sands and Crown Resorts Limited.
Vietnam

Casinos and Gambling in Summary
Like most Asian countries trying to get a piece of the Asian gaming pie, Vietnam is in a state of flux and growth as the government struggles with perceived moral issues balanced by the desire to generate tax revenues and grow their service economies, as well as stem "currency bleed" by citizens who take their gambling over the border. There are currently over 40 legal venues where money may be risked for possible gain by foreign passport holders. The government has not yet released a list of those holding licenses for "proper casinos", nor the provinces they are issued in. However, if you plan a trip to Ho Chi Minh City (Saigon) or one of the other areas where  we have reviewed casinos, you will find luxurious accommodations and VIP treatment from almost all of the current Gaming Clubs. The legendary Vietnamese hospitality is prevalent everywhere, and there are indeed full scale casinos with all the games you would expect to find in Macau or Las Vegas.
Vietnam Casino Jobs
Full Vietnam Casino Jobs
Individuals who receive an offer of employment from Medcor will be required to undergo a drug test and a criminal background check....
Holiday Pay, Floating Holiday program, Paid time off (PTO). 401K eligibility with up to 3.5% employer match. Medical, Dental and Vision benefits available (HMO...
Must be able to frequently move freely about the office, maintain manual dexterity to access computer via computer keyboard and operate office equipment, such...
The individual must possess the following knowledge, skills and abilities and be able to explain and demonstrate that he or she can perform the essential...
Specific vision abilities required by this job include close vision, distance vision, peripheral vision and depth perception....
Vietnam Rating
4.0 / 5
Vietnam Gambling