Monaco Casinos
Monaco Casino List
Top Online Casinos
Casinos and Gambling Facts
Monaco is a country in Western Europe with legal gambling. There are 1 cities with gambling facilities in Monaco which have 4 legal gambling facilities available in total.

The types of gambling available in Monaco are: casinos.

The largest gambling city in Monaco is Monte Carlo with 4 gambling facilities, 101 tables games, 2,028 gaming, slot, and video poker machines.
The largest casino in the entire country of Monaco is Le Café de Paris which is located in Monte Carlo. Le Café de Paris has 15 table games, 1,200 gaming and video poker machines.
Monaco Casino Stats
| | |
| --- | --- |
| Casinos: | 4 |
| Cities with Gambling: | 1 |
| Casino Hotels: | 2 |
| Table games: | 101 |
| Slot machines: | 2,028 |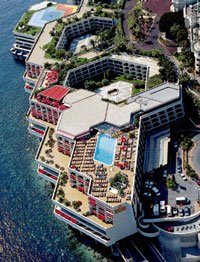 Monaco Casino Gambling Review
Although Monaco has long been considered among the most romantic and magnetic resort destinations in the world, it became known to the American public at large in 1955 by the marriage of actress Grace Kelly to its ruling monarch Prince Rainier. The James Bond movies, notably Golden Eye where bond is portrayed in a Monte Carlo casino, and Dr. No where Bond first uses the name "James Bond", also brought popular attention to this tiny nation of allure and adventure. And no wonder, as the history of Monaco resonates with mystery and legend dating back to the 6th century BC when it was founded by the seafaring Phocaeans as an important Mediterranean coastal port.

Greek and Roman mythologies note that Hercules, known for his super-human strength and adventurous exploits, traversed this coastline. The name Monaco stems from the Greek word Monokos meaning "single house" or "single one", quite possibly a reference to Hercules. . It is claimed that Hercules constructed Monaco's chief port, named Hercule.

Julius Caesar passed through Monaco, "that castled cliff, Monoecus by the sea", as poetically expressed by Virgil. Following the Gallic Wars, the port came under Roman control until the fall of the Empire in 476. Throughout the Middle Ages, various barbarian tribes vied for the control of the region. But it was not until 1215 that the Genoese established Monaco as a colony and a military fortress

In time, rivaling ambitions among Genoese ruling families culminated in the seizure of the settlement in 1297 by François Grimaldi, who conquered the fortress with a small contingent and reclaimed it in the name of the pope. François' grandson, Charles I served in the royal court of France and is recognized as the founder of Monaco. As a vital trading route, Monaco not only prospered commercially, it also became strategically important as a naval base. As during the Middle Ages, European countries again vied for control of the Fortress until the beginning of the 17th Century, when Lord Honore II of the House of Grimaldi took the throne as Prince Honore II. Since that time, the Grimaldis have ruled Monaco ever since.

It was not until the French Revolution that Grimaldi sovereignty was temporarily challenged, when Napoleon's France annexed it for an interim period. However, after Napoleon's abdication in 1814, the Grimaldis returned to power. By 1861, however, Monaco was plagued with financial woes, and was compelled to cede half of its land to France in order to keep its independence and remain solvent.

Having thus lost valuable mineral resources and revenues, in 1863 Grimaldi Prince Charles III found a solution to the economic crisis: the establishment of Monaco as a center of tourism and gambling. This resulted in the development of a casino, hotels, an opera house, and a theater under the auspices of the Societe des Bains de Mer. It was patterned after the famous German Bad Homburg casino and became the foundation of present-day Monte-Carlo, named after Charles III.

Over the next several decades, the casino was expanded and transformed into a flourishing complex visited by many of the most notable names of European society. In 1869 alone, there were over 170,000 visitors, including such notables as Prince Napoleon, Baron de Rothschild, Jacques Offenbach, Alexandre Dumas, and Baron Haussmann. By 1873, Monte-Carlo prospered as the only European casino sill in operation. As early as 1879, besides all the royalty of Europe, 2000 visitors arrived at Monte-Carlo every week.

Perhaps the most notorious gambler in Monte-Carlo history was Charles Wells. In 1891, he broke the house bank several times and walked away with a cool 1,000,000 gold francs. A song was written about him in England called "The Man who Broke the Bank in Monte-Carlo." He later won another 3 million francs but was subsequently convicted of fraud and imprisoned. No one has ever deciphered his methodology and it remains a mystery to this day.

How important has Monte-Carlo been to Monaco? Until recent years, it was the primary source of Monaco's economy, which began diversifying in the 1990's. The casino still enjoys its reputation as the most famous and the most prestigious in the world. To enter the casino is like taking a walk back into its legendary history, full of mystery and enchantment.

Monaco became a member of the United Nations in 1993 and later entered into a revitalized treaty with France that ensured the continuance of its status as an independent nations if there were ever a lapse in the Grimaldi's succession of rulers to carry on its dynasty. The Principality was also accepted into the Council of Europe in 2004. Monaco's military protection is assured and will continue under the umbrella of the French armed forces.

The lore of a fascinating history, with its Grimaldi royal traditions dating back 700 years, the invigorating and pleasant Mediterranean climate, the romantic and spectacular land and seascapes, the thrilling Monaco Grand Prix Formula One races annually, and the Monte-Carlo Casino and complex – all continue to attract visitors from around the world as an unrivaled recreation mecca and a most glamorous tourist destination.
Monaco Casino Jobs
Full Monaco Casino Jobs
Responsible for the maintenance of current database customers by providing exceptional guest service to maintain and cultivate relationships, increase trip...
With or without assistance. Assist arriving and departing guests with luggage. Of age or older. Must be 21 yrs....
Deal game efficiently and accurately while creating an atmosphere of hospitality and friendliness toward guests and Team Members....
The physical demands described here are representative of those that must be met by an employee to successfully perform the essential functions of this job....
Properly use equipment, tools or systems to complete assigned tasks and complies with company safety standards....
Monaco Rating
Monaco Gambling