Racing surfaces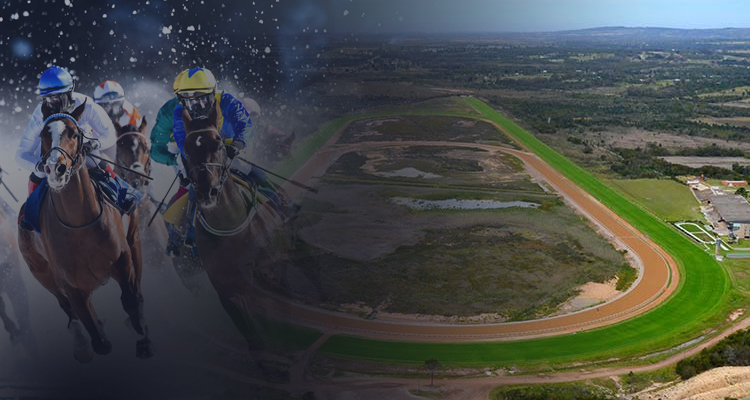 Tom Law 01:49 Jul 18th, 2018 101 Horse Racing
Thoroughbred racing around the world is conducted primarily on three types of surfaces – traditional dirt, turf and synthetic (all-weather).
The majority of top-tier races in North America are run on traditional dirt, whereas most of the premier races throughout the rest of the world are contested on the grass. Synthetics such as Polytrack or Tapeta Footings are primarily used for racing in winter, cold or rainy months, although some North American tracks such as Woodbine in Toronto, Presque Isle Downs in Western Pennsylvania and Golden Gate Fields near San Francisco race on an all-weather surface regardless of the season.
Dirt surfaces would seemingly be fairly uniform but they are far from it.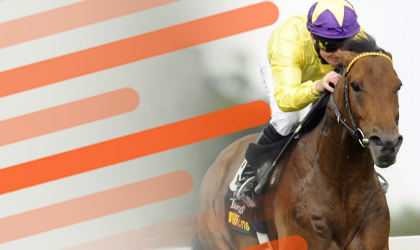 The main track at Belmont Park, home of the Belmont Stakes and many other prominent races, is very sandy in nature and therefore prone to drying out quickly and becoming deep and tiring.
By comparison the main track at Churchill Downs, home of the Kentucky Derby in Louisville, is different than just about any other surface in racing. Many North American racetracks feature a hard base, typically limestone, with layers of packed and loose dirt on top. Churchill's track is said to not have that base but rather a deep layer of soil, clay and organic materials several feet under the surface. Horseplayers frequently note that Churchill's main track plays favorably to horses that favor or have enjoyed success racing on grass because of its consistency.
Understanding the conditions of a dirt racetrack is an important element to handicapping a race. Dirt surfaces receive a rating by track officials depending on the condition of the course caused by the amount of water it receives.
Tracks rated "fast" are typically those with an ideal amount of moister, whether they've dried out from rain the previous day or taken in enough from the racetrack's maintenance department. The next ratings, based on the amount of moisture, are tracks listed "good" and "muddy." Another common rating is "sloppy," where water pools on the top of the surface and horses splash their way around the track. Occasionally tracks are rated "frozen" or "hard" but not often since racing or training won't be conducted on those surfaces.
Racing on grass, or turf, is more common outside North America primarily because of the manner racing is conducted.
In North America, the majority of racetracks are open for long periods of time so grass courses can't handle the beating of hundreds of races being contested on them in a variety of weather conditions that range from the drought of the summer to the rainy, wet periods of spring and fall. Racetracks in Europe run shorter seasons, or meetings, sometimes only a day or a few days a year, so the courses can handle the pounding.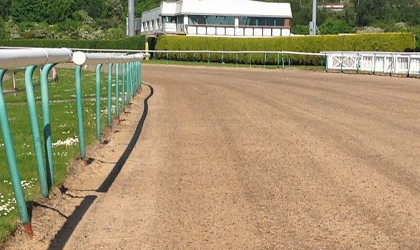 Just like dirt tracks, turf courses vary greatly and often because of their location and type of grass. Turf courses also receive a rating and the four most common are firm, good, yielding and soft.
A firm turf course is considered ideal, without much moisture and close to hard. A good or yielding course is saturated enough to give under the horse's feet. Soft turf is seen more frequently outside North America and is saturated to the point of being boggy.
Synthetic surfaces have been used throughout the world for many years, primarily during the winter or rainy months when most of the top horses are recovering from the premier races of the spring, summer and fall. They became much more common in the early part of the 21st century in North America, starting in 2005 with the debut of the Polytrack surface at Turfway Park in Northern Kentucky.
Polytrack is a mixture of polypropylene, polyester, Lycra, silica sand and rubber, all covered by a wax coating. Other synthetic tracks are similar in makeup and feature a vertical drainage system to eliminate sloppy surfaces when maintained properly.
In addition to being implemented as a way to conduct racing in rainy or cold conditions, synthetic tracks were installed for safety measures at tracks across North America in the 2000s. Such major racetracks as Keeneland, Santa Anita, Golden Gate, Arlington Park and Woodbine all featured synthetic tracks for a few years until track management reverted most of them back to traditional dirt surfaces.
Horse Racing 101
Horse Racing Insider Tips
Horse Racing Basics