Apache Gold Casino Resort
Casino Details
Amenities
Venues
Meeting and Event Facilities, Point Sports Bar
Golf
Apache Stronghold Golf Club
Casino games available
Blackjack
Slot machines
Bingo
Electronic Bingo
Apache Gold Casino Resort Review Jump to comments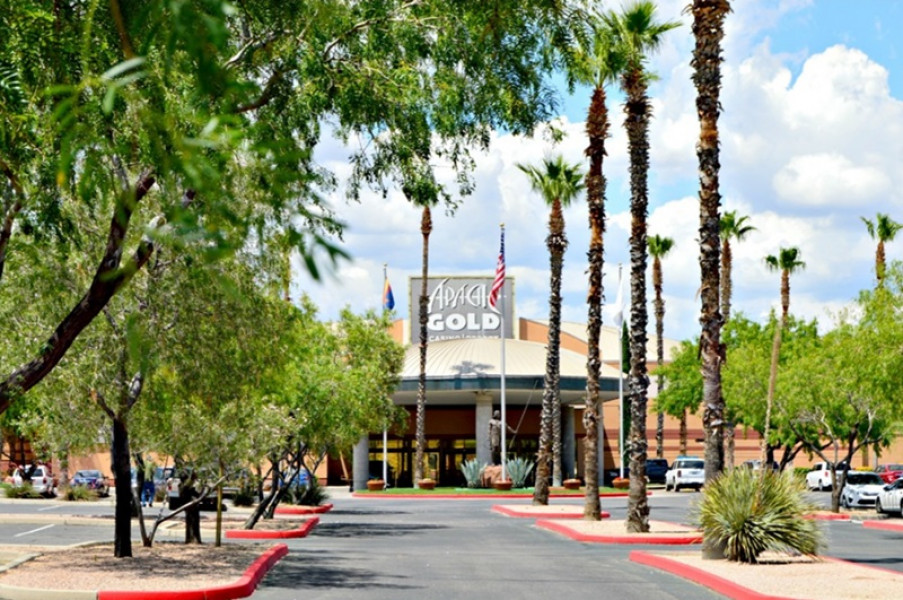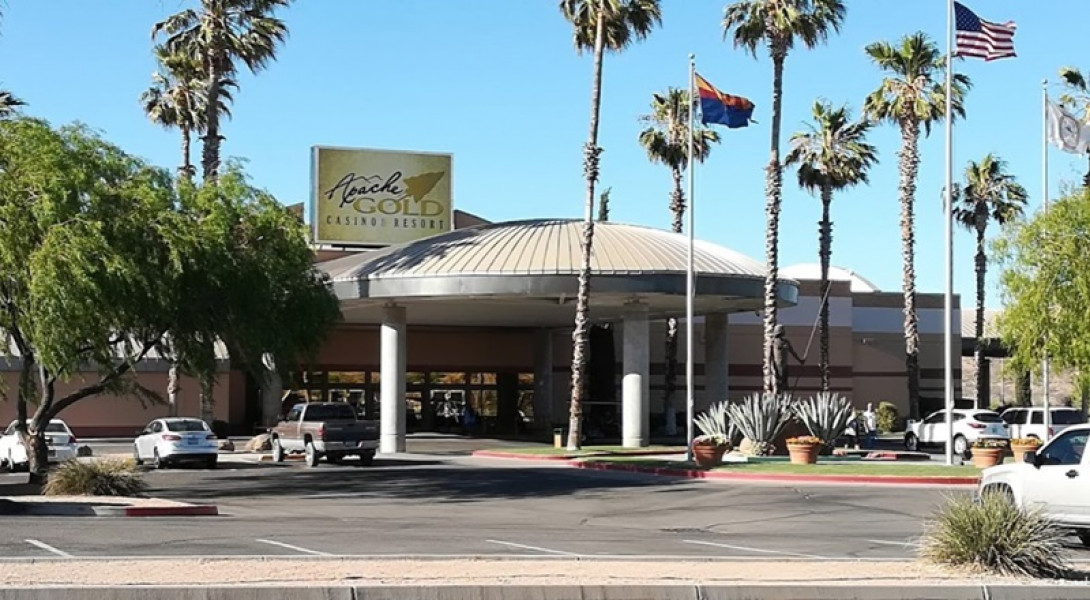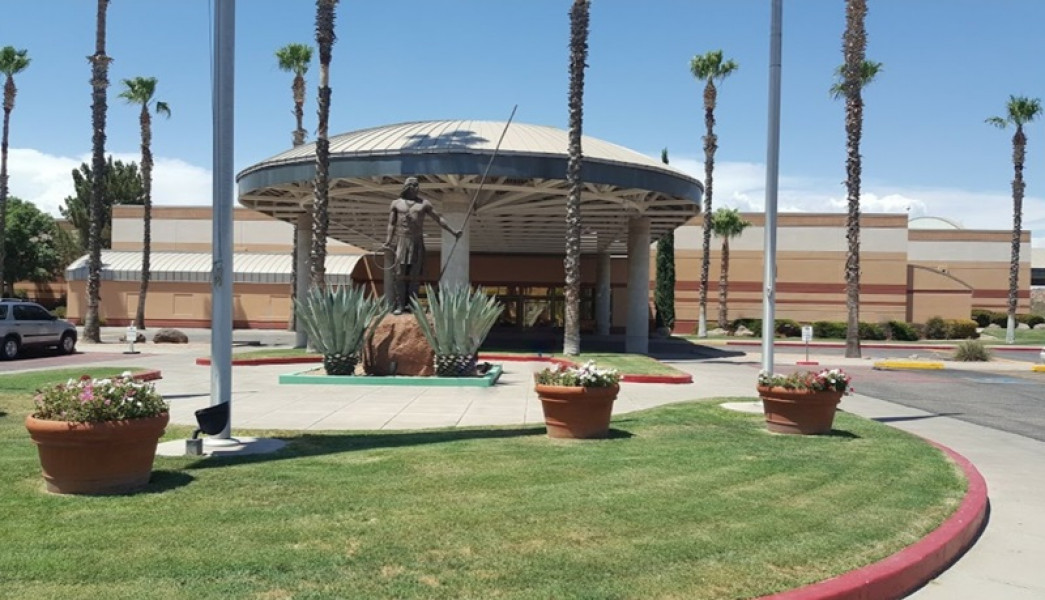 Apache Gold Casino Resort is located at 5 US Highway 70 on the San Carlos Reservation about 5 minutes east of Globe, Arizona. The casino is owned and operated by the San Carlos Apaches, and is sister to the Apache Sky Casino located in Dudleyville. The property features a 145-room and suites hotel, with an outdoor pool, fitness facility, business center, gift shop, 60-space RV Park with full hookups and on-property gas/convenience store. Dining options include three restaurants and a sports bar, a snack bar and a coffee shop.
A cabaret area offers live entertainment and golfers will enjoy the 18-hole Apache Stronghold Golf Club with views of three mountain ranges.
The 24-hour casino offers over 500 slot machines with some proprietary themes and titles like "Apache Ponies", blackjack, three-card poker and a 200-seat bingo hall.
up to

test
Loading...
There are no available casinos for requested criteria.
Something went wrong. Please try again later.
Gaming at Apache Gold Casino
Apache Gold Casino has more penny slots than anyone else in the state with 600 of the newest machines. If bingo is your game you'll love the 200 seat bingo hall with a Bingo Blowout on the first Monday of every month - play paper or electronic.
Blackjack limits range from $5 to $200 and the  tables are open  Friday-Tuesday from 3pm and  Wednesday & Thursday from 11am until the action stops.
Poker at Apache Gold Casino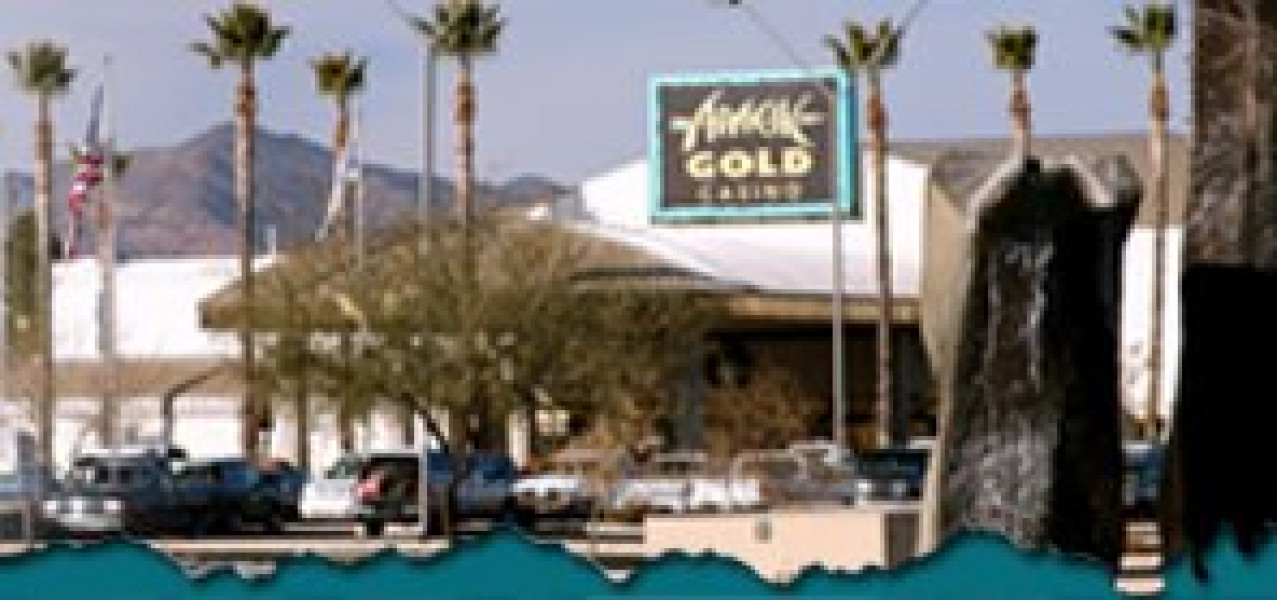 The Apache Gold poker room is open Wed 10a-4a and Thu-Sun 4p-4a.  Hold 'em tournaments are held Wed and Thu at 6p, and a shootout tournament is held Sun at 3p.
If you're a staff member or recent patron and would like to add photos or other info to this listing, please email us at [email protected].
Upcoming Events

There is currently no information about upcoming events at Apache Gold Casino Resort
Check out events at other venues around the world.
Dining & Restaurants
Black River Grill
Serving: American Southwest, Cafe/Variety
The Black River is the majestic life-giving waterway that rolls through the expansive San Carlos Reservation. Apache Gold Casino has completely refurbished the Apache Grill and now it is named Black River. Enjoy the same service and a completely revamped menu featuring all of your old favorites along with some new items for breakfast, lunch, and a great selection of Southwestern fare for dinner.
Hours
| | |
| --- | --- |
| Sunday | 4:00pm / 10:00pm |
| Monday | 6:00am / 11:00pm |
| Tuesday | 6:00am / 11:00pm |
| Wednesday | 4:00pm / 10:00pm |
| Thursday | 6:00am / 11:00pm |
| Friday | 6:00am / 12:00am |
| Saturday | 6:00am / 12:00am |
Wickiup Buffet
Serving: Buffet, Cafe/Variety
The Wickiup Buffet has been completely renovated and is now open again. The fare is still top quality and represents a great value. Guests enjoy dining specials on Friday and brunch on Saturdays and Sundays.
The buffet is closed Mon-Thurs.
Hours
| | |
| --- | --- |
| Sunday | 9:00am / 9:00pm |
| Monday | 6:00am / 11:00pm |
| Tuesday | 6:00am / 11:00pm |
| Wednesday | 6:00am / 11:00pm |
| Thursday | - |
| Friday | 5:00pm / 9:00pm |
| Saturday | 9:00am / 9:00pm |
Apache Prime Steakhouse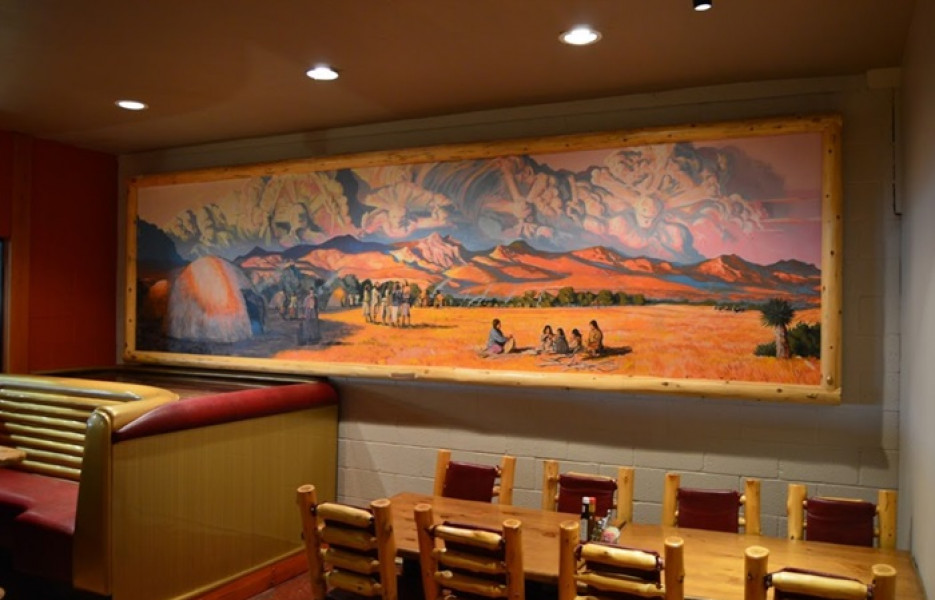 Apache Prime Steakhouse is located in the San Carlos Events Center, adjacent to the Apache Gold Casino & Resort and is open to the public. Enjoy western hospitality and your favorite cuts of beef as well as a full range of home-style specialties. Black River Grill (formerly Apache Grill) is still open inside the casino as are SNAX and the Wikiup Buffet.
Hours
| | |
| --- | --- |
| Sunday | 4:00pm / 10:00pm |
| Monday | 6:00am / 11:00pm |
| Tuesday | 6:00am / 11:00pm |
| Wednesday | 4:00pm / 10:00pm |
| Thursday | 4:00pm / 10:00pm |
| Friday | 4:00pm / 11:00pm |
| Saturday | 4:00pm / 11:00pm |
SNAX
Serving: Pizza, Burgers & Dogs, Coffee
SNAX is a convenient venue located just outside of the gaming floor at Apache Gold Casino. It's the new name for the longstanding snack bar offering the same great service and handy snack items such as pizza, burgers, hot dogs, ice cream, coffee, etc. Open every day to help satisfy your munchies when you just want a quick bite or drink before returning to your game.
Hours
| | |
| --- | --- |
| Sunday | 8:00am / 12:00am |
| Monday | 8:00am / 12:00am |
| Tuesday | 8:00am / 12:00am |
| Wednesday | 8:00am / 12:00am |
| Thursday | 8:00am / 12:00am |
| Friday | 8:00am / 12:00am |
| Saturday | 8:00am / 12:00am |
Apache Gold Casino Venues & Hotspots
Meeting and Event Facilities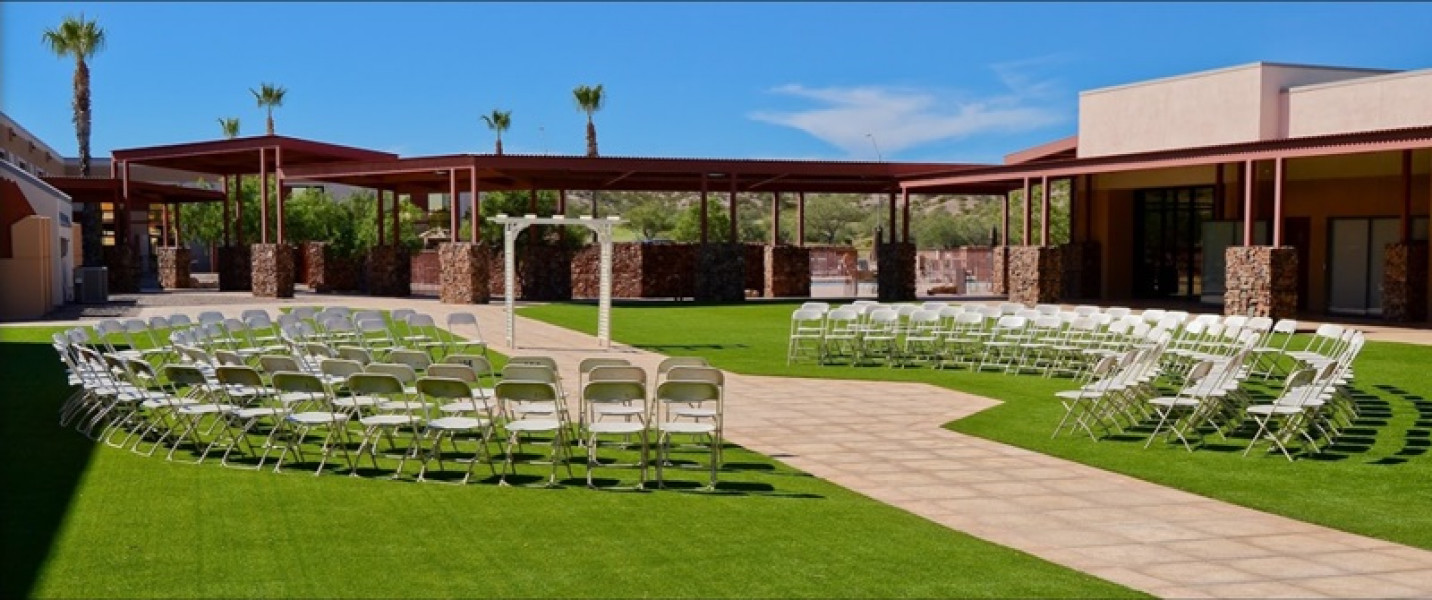 Apache Gold Casino Resort features a variety of unique and flexible meeting spaces that can accommodate up to 300 attendees for theater-style seating. An outdoor space, including an expansive patio area, can be utilized for day and evening functions, and informal business meetings, while multiple smaller rooms can easily be configured for classrooms, meetings, and buffet-style or formal dining.
Reservations: (928) 475-7800, ext. 3203
More Information:
Visit Website
Point Sports Bar
Located just off the casino floor, Point Sports Bar offers sports memorabilia-filled fun along with an extensive selection of craft beers and specialty drinks. Feeling a bit peckish? No worries, as the bar features an all-day and late-night menu that is sure to satisfy. Relax with something tasty and enjoy the game on big screen TVs, shoot some pool or get your dance on to live bands.
Point Sports Bar is open daily from 10am to 1:45am.
Apache Gold Casino Hotels
Apache Gold Resort Hotel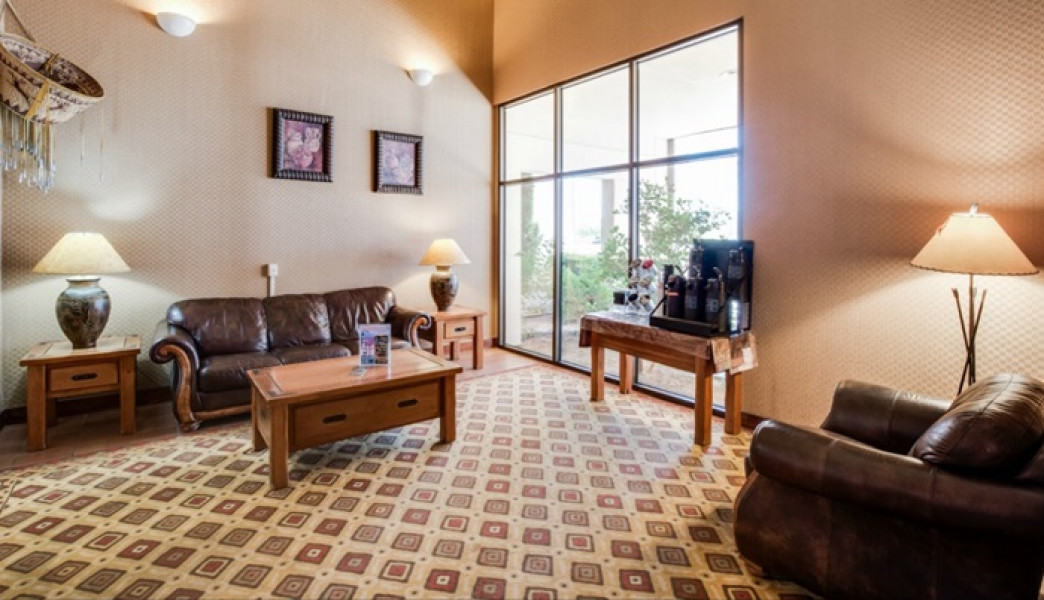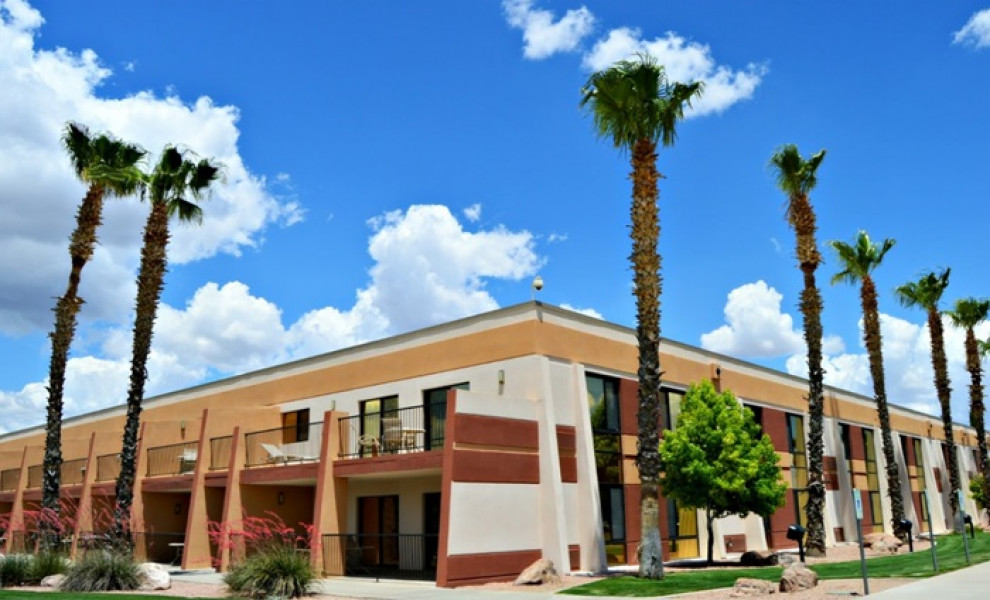 Apache Gold Casino Golfing
Apache Stronghold Golf Club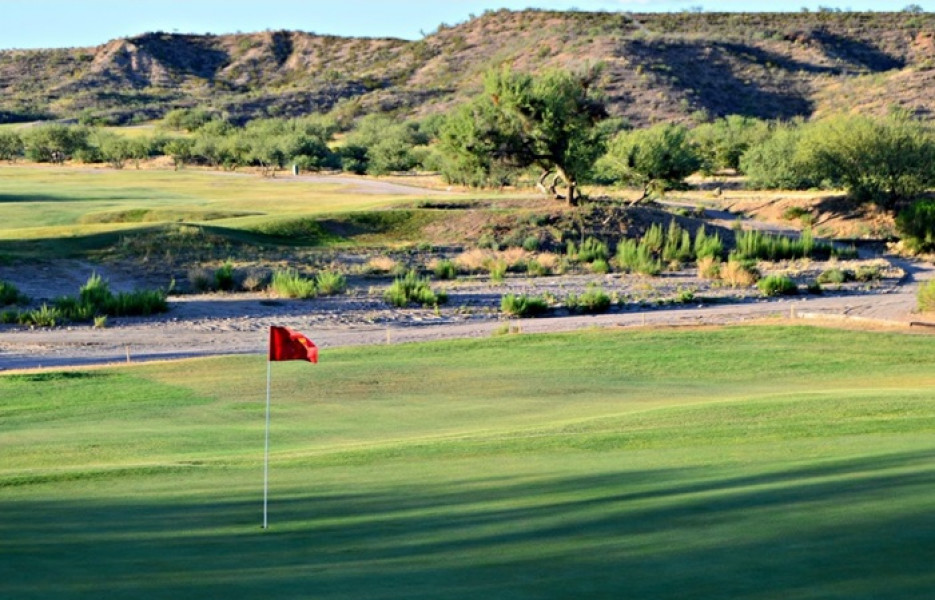 The 18-hole par-72 Apache Stronghold Golf Club was designed by Tom Doak and is one of the top five championship courses in Arizona. The Stronghold is surrounded by mountains and wraps around 14 archaeological sites offering a unique experience. If you are a golfer this is a must play.
IN addition to the 7,519-yard long course, there is also a clubhouse, which features a full menu, as well as snacks and drinks, and a pro shop where guests will find a wide selection of apparel and equipment.
Apache Gold Casino RV Parking
The RV Park at Apache Gold has 60 spaces with full water and shower hookups. You'll be side by side with a shared hookup, one side has 50 amp and the other has 30 amp service. Sign in at the convenience store. The showers have e-card locks for your security and privacy. The lot itself is all paved and there are lots of palm trees so you might find some shade if you come in the summer months. The park is open all year and also provides access to cable and high speed Wi-Fi, as well as the pool and golf course. Horseshoe pits are provided for recreation and of course, the casino is right next door.
Shops
Cutter Quick Stop:

(Convenience Store & Service Station)

Apache Gold Casino Gift Shop:

(Gifts)
Apache Gold Casino Videos
Casino Details
Contact information
Casino hours
Due to the global pandemic - Corona Virus - Covid 19 most casinos have changed their opening times or even closed. For accuracy, we urge all visitors to get up-to-date information directly from the casinos since changes are taking place everyday.
Amenities
Venues
Meeting and Event Facilities, Point Sports Bar
Golf
Apache Stronghold Golf Club
Casino games available
Blackjack
Slot machines
Bingo
Electronic Bingo