Arlington International Racecourse
Arlington International Racecourse Review Jump to comments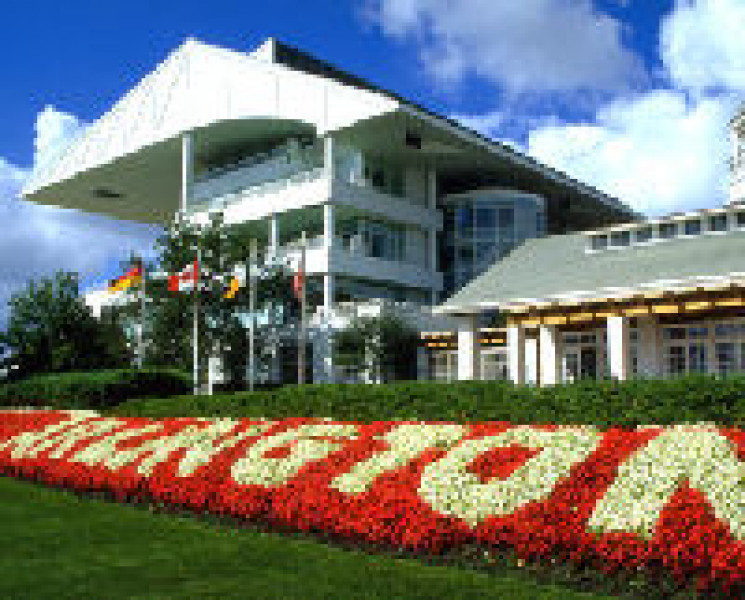 Arlington International Racecourse, or as known familiarly as simply Arlington Park, is located 2200 West Euclid Avenue, the Chicago suburb of Arlington Heights, Illinois. The park opened in 1927 and is now owned by Churchill Downs, Inc. There are two tracks here including a one and one-eighth mile dirt oval and a one mile turf oval. At full spectator capacity the park is capable of seating at least 50,000 fans. The dirt course was replaced with a synthetic track prior to the opening of the 2007 season.
Visitors can watch and bet on live races from early June through late September. Notable races include the Arlington Million, Beverly D. Stakes, Secretariat Stakes, and the G3 American Derby.
Simulcast race betting is open year round and there are 7 dining venues, many with bars or lounges to choose from.
up to

test
Loading...
There are no available casinos for requested criteria.
Something went wrong. Please try again later.

Gaming at Arlington Park
Arlington opens in time for the Kentucky Derby for bettors to take advantage of the huge payouts available from the simulcast center. The first live race day is right around then as well, the first weekend in May and continues until the end of September.
Enjoy the fine surroundings of the Million Room and place your bets for live races and simulcast events. Simulcasting occurs year round with top races from around the world.
Upcoming Events

There is currently no information about upcoming events at Arlington International Racecourse
Check out events at other venues around the world.
Dining & Restaurants
The Million Room
Serving: Steak, Seafood, Contemporary Cuisine
Catch million dollar views of the race track while you indulge in fine dining at Arlington Park. The room is indoors and offers tiered-seating for premium views through the floor to ceiling windows facing the track. Every table has its own personal flat screen TV so you'll be even closer to the action. When you make your reservations for the Million Room you will be booking your table for the entire day. Smart casual dress code with collared shirt is strictly enforced. Self service betting terminals and mutuel tellers are available in the room.
Recommended Attire:
Gentlemen: Slacks or tailored jeans and collared shirt.
Ladies: Conservative dresses, skirts and blouses, pantsuits or tailored jeans.
Restrictions include ripped or torn jeans, shorts ,t-shirts, halter tops, athletic shoes or abbreviated clothing.
Cowboy Grille
Serving: Steak, Smokehouse, Cafe/Variety
The Cowboy Grille is an al fresco dining venue at Arlington Park that overlooks the saddling paddock. Enjoy the fresh air along with cocktails or your favorite drinks while waiting to enjoy a fine selection of sandwiches and salads, smoked baby back ribs, steak or any number of casual fare choices. The ribs are Ditka's, so you know they're good! Order a full or half slab and get baked beans, cole slaw on sweet corn on the side.
Terrace Café
Serving: Snacks / Hotdogs, Cafe/Variety
Come into the Terrace Café on Thursday and there is no seating charge (just general admission). Enjoy outdoor seating in a sunny or shaded location along with libations from the Terrace Café Bar Some of the more popular dishes are the shrimp and orange salad and of course Ditka's Italian beef sandwich. The petite crab cake sandwiches are big sellers to along with the standard race day fare of burgers and hot dogs. Any day except Thursday requires a $30 fee per table for up to 4 people.
Mr. D's Sports Bar
Serving: Bar/Pub, Cafe/Variety
You can pour your own beer at the table with Mr. D's table tappers filled with 20 oz or 24 ounces of your favorite draft beer. These cylinders actually have a tap to dispense your libations. Enjoy a wide range of pub fare from appetizers to complete meals. You can make your own thin crust pizza from the items on the menu and it will be cooked to order for you. The bar has a Chicago theme and plenty of big screens to catch your favorite sports or wager on simulcast races.
Cobey's Food Court ~ 5 Vendors
Serving: Mexican, American, Snacks / Hotdogs, Pizza, Vegetarian
Cobey's Food Court is the place to go for a quick, delicious, and nutritious lunch when you are at Arlington Park. The menu among all vendors  breaks down in to five sections including Mexican, Italian, Hot Dog Deluxe, The American Grill, and Arlington Fresh market - each with their own specialties to please you. Fajitas, salads, Chicago style hot dogs, pizza and more. This venue is available with general admission.
Picnic Grove
Serving: American, Snacks / Hotdogs
Enjoy the great outdoors in the Picnic Grove at Arlington Park. This is where you will find the  Miller Lite Party in the Park with live music on certain Fridays. Come on certain Sundays to let the kids take pony rides, participate in a petting zoo, and enjoy specialty kid's meals. The burgers are grilled as soon as you order them for a hot and juicy grilled burger or cheeseburger, the beer brats, jumbo hotdogs and occasional specials will excite and delight. It doesn't get much better than this folks, and you don't have to dress to the nines to enjoy great food at the races!
Shops
Arlington Park Gift Shop:

(Gifts)
Casino Details
Contact information
Casino hours
Due to the global pandemic - Corona Virus - Covid 19 most casinos have changed their opening times or even closed. For accuracy, we urge all visitors to get up-to-date information directly from the casinos since changes are taking place everyday.
Poker hours
Due to the global pandemic - Corona Virus - Covid 19 most casinos have changed their opening times or even closed. For accuracy, we urge all visitors to get up-to-date information directly from the casinos since changes are taking place everyday.