Casino Details
Amenities
Venues
After Six Lounge and Cafe, Bar 20, Pool Bar, The Lounge, The Atrium , Swiss Tropic, Oma's
Casino games available
Blackjack
Craps
Roulette
Baccarat
Slot machines
Sic Bo
Pontoon
Money Wheel
Super Six
Electronic Roulette
Electronic Sic Bo
Electronic Baccarat
Lunar Poker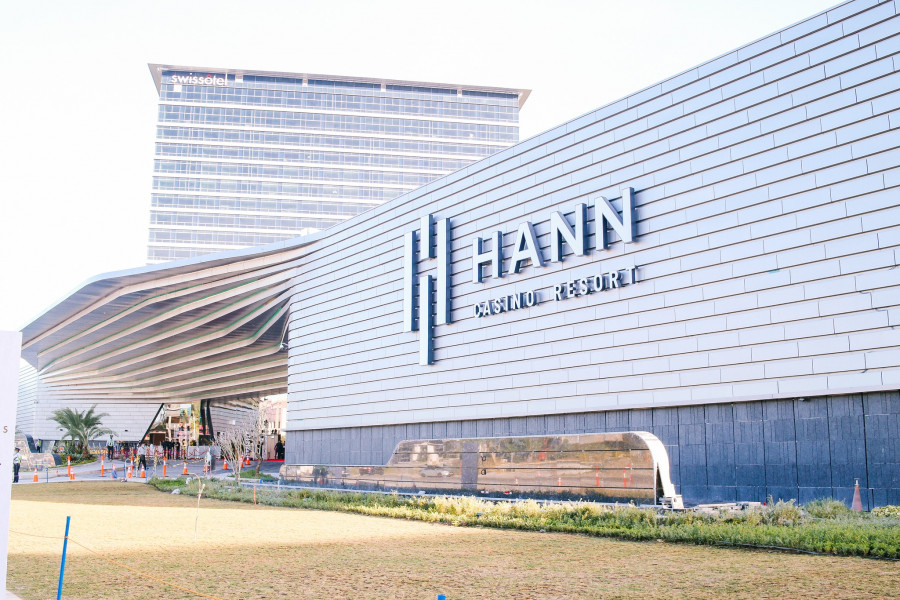 Hann Casino Resort, with its world-class casino, diverse entertainment offerings, and top-notch facilities, is located in Pampanga,  a province in the Philippines, northwest of Manila. It is surrounded by Swissotel, Clark Marriott, and Widus hotels, providing superb facilities and amenities, so you can find anything you need just a few steps around. The Resort is owned and operated by the Hann Group. 
Hann Casino is a fantastic, modern place, offering the Vegas vibe, the latest technology devices, and more than amazing gaming possibilities. There are almost 900 slot and multi-game machines, and almost 200 table games. Besides favorite slots, guests can pick to play Baccarat, Super 6, Roulette, Blackjack, Pontoon, Hann Poker, Texas Hold'em, Lunar Poker, Craps, Sicbo, and Money Wheel. There are also electronic stations for Roulette, Baccarat, and Sicbo. VIP players will adore the luxurious and elegant gaming area with private salons and an excellent offer of slot machines and table games. 
Joining the loyalty program, members get different rewards and privileges, like discounts, offers from dining, entertainment, and hotel room rates, as well as attractive promotions. There are six types of Hann Rewards Cards - elite, noble, regal, royal, majestic, and imperial, and each of them provides better rewards and higher bonuses. 
This is the place where literally every person can find the perfect dining area and cafe to enjoy favorite dishes and drinks. Numerous restaurants and bars are available around the establishments of Hann Casino, Swissotel, Clark Marriott Hotel, and Widus Hotel. Besides international food, guests can taste some special national cuisines like Asian, European, Korean. 
Hann Casino Resort is only four kilometers away from Clark International Airport. 
up to

test
Loading...
There are no available casinos for requested criteria.
Something went wrong. Please try again later.

Gaming at Hann Casino Resort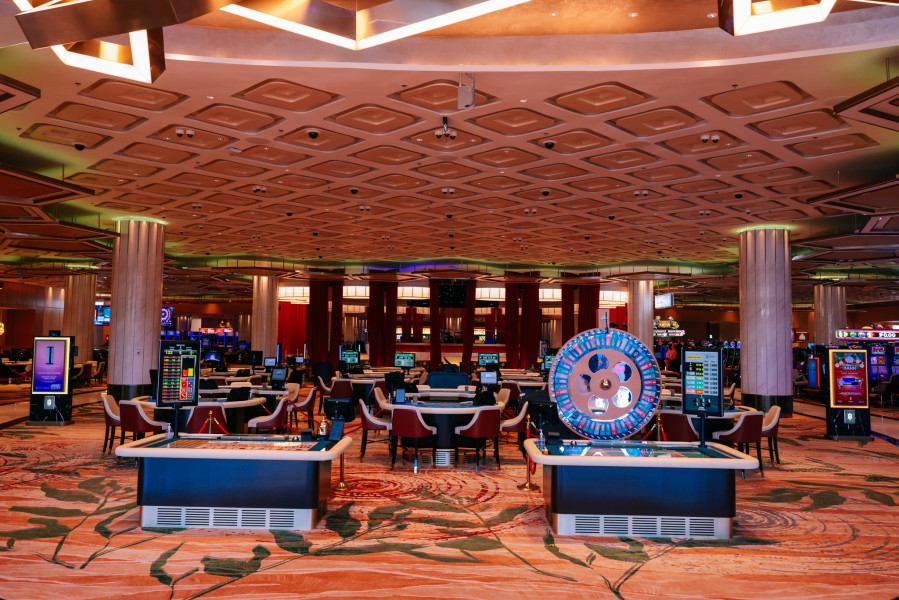 This is a world-class, Vegas-style gaming place, providing an amazing range of possibilities that meet all modern players' wishes and preferences. There are 868 state-of-the-art slot machines that feature a wide range of popular gaming favorites with more than impressive progressive jackpots. The Casino has 162 table games, where players can also enjoy attractive jackpot amounts. Guests can play Baccarat on 80 tables, Super 6 on 50, and there are also tables for Roulette, Blackjack, Pontoon, Hann Poker, Texas Hold'em, Lunar Poker, Craps, Sicbo, and Money Wheel. 
Thanks to the latest technology, guests can also enjoy playing the most awaited selection of exciting electronic table games like Roulette, Baccarat, and Sicbo. 
The Casino provides an exclusive and impressive VIP gaming area with an elegant club and private salons. 
Upcoming Events

There is currently no information about upcoming events at Hann Casino Resort
Check out events at other venues around the world.
Dining & Restaurants
Wu Xing Chinese Restaurant
Guests who prefer Asian cuisine will like the Wu Xing Chinese Restaurant on level 4 of the Clark Marriot Hotel. This commodious and elegant place proudly offers the authentic Peking Duck, as well as other popular Asian specialties. Guests can also taste specialty wine and tea here.


Goji Kitchen + Bar
Goji Kitchen + Bar is a casual, cozy, all-day dining place, where guests can taste various delicious dishes, enjoying flavors from all over the world. It is located on Clark Marriott Hotel Level 1, welcoming guests with a comfortable dining area and an amazing offer of food and drinks.
Spice
The Spice is a simple, bright, and cozy place on Hann Casino level 1, where guests can look for delicious and spicy Asian dishes. The idea is to provide quick savory bites, so guests can taste noodles, dim sum, dumplings, and rice. No matter if you like spicy hot or spicy full of flavors, this place can offer the perfect mouthwatering bite to fascinate all your senses.
Markt
Colorful and lively markets are often around Europe, and they were the inspiration for this cozy and bright place, offering a wide range of international dishes. With a focus on fresh, grilled dishes, Markt provides a little bit of everything, so everyone can easily find the perfect meal here. Markt is located on Swissotel Clark Level 1.
Smoki Moto
The Resort is also ready for fans of Korean cuisine and those who are willing to try something new and delicious. The Smoki Moto restaurant offers different authentic Korean dishes. Providing tasty food, modern design, and a cosmopolitan atmosphere, Smoki Moto can easily become one of your favorite dining places.
Urban Coffee
Urban Coffee, as you guess, is a casual coffee house restaurant with an amazing offer of different coffees and similar drinks. Besides this favorite beverage, guests can taste various pastries and breakfast sandwiches. Follow the strong coffee fragrance and you will easily find this place on level 1 of Clark Marriott Hotel.
Noodle INC.
Noodle Bar is one of the numerous special offerings at Goji Kitchen + Bar, located on level 1 of the Clark Marriott Hotel. It is an open bar like a buffet, giving a variety of Asian noodles, garnishes, and condiments.
Salt Resto
Salt Resto is a casual dining restaurant, located on level 1 of Widus Hotel. This cozily furnished and pleasant place takes its name from a highly essential ingredient used to highlight food's flavor. It is an ideal place for food lovers and those who prefer a quick pick of culinary delights. Delicious dishes are convenient for take-out and room service.
Ristorante di Verona
Coming soon.
Kai
Coming Soon.
Hann Casino Resort Venues & Hotspots
After Six Lounge and Cafe
A spacious and elegant After Six Lounge and Cafe at Widus Hotel is an excellent place to spend a casual, relaxed afternoon, as well as an exciting evening as a pre-game for a night out. In the classy interior with dark, wooden walls, guests can enjoy different tasty pastries and flavorful coffees.
Bar 20
The 20 is an impressive and elegant bar on Hann Casino level 1. This place with a large and comfortable seating area provides harmony in flavors and music. While having various gourmet bites, guests will also enjoy the finest entertainment thrills and world-class performances. Delightful food will taste even better combined with the right drink.
Pool Bar
For pure hedonism, visit the next door Clark Marriott Hotel and its Pool Bar on the unwinding poolside, offering a pleasant, refreshing atmosphere, different snacks, and fresh drinks. The highlights on the menu, besides attractive, innovative small bites, are definitely flavorful, sparkly cocktails.
The Lounge
The Lounge is a spacious, elegant place on level 1 of the Clark Marriott Hotel. This pleasant, cozy place offers handcrafted cocktails and casual dining in a relaxed, pleasant atmosphere. Besides attractive and delightful cocktails, guests can taste different international specialties.
The Atrium
The Atrium is a green oasis for guests who need to escape from the excitement of the gaming area or those who want to recharge batteries. This cozy and pleasant garden place offers various delicious snacks and favorite drinks. The fresh atmosphere, great food, and a wide range of beverages definitely sound like an ideal break.
Swiss Tropic
Swiss Tropic, located on level 5 of the Swissotel Clark, is a perfect place for recharging batteries enjoying favorite drinks and delicious small bites near the pool. With amazing cocktails, delightful smoothies, light bites, and a sparky pool, it will easily become your favorite place to spend any free moment you get.
Oma's
Hann Casino Resort Hotels
Clark Marriott Hotel, Luzon Island, Philippines
BOOK NOW
Casino Details
Contact information
Casino hours
Due to the global pandemic - Corona Virus - Covid 19 most casinos have changed their opening times or even closed. For accuracy, we urge all visitors to get up-to-date information directly from the casinos since changes are taking place everyday.
Poker hours
Due to the global pandemic - Corona Virus - Covid 19 most casinos have changed their opening times or even closed. For accuracy, we urge all visitors to get up-to-date information directly from the casinos since changes are taking place everyday.
Amenities
Venues
After Six Lounge and Cafe, Bar 20, Pool Bar, The Lounge, The Atrium , Swiss Tropic, Oma's
Casino games available
Blackjack
Craps
Roulette
Baccarat
Slot machines
Sic Bo
Pontoon
Money Wheel
Super Six
Electronic Roulette
Electronic Sic Bo
Electronic Baccarat
Lunar Poker