Laos casinos
and gambling guide
Review Country

Guest
Posted on April 30th, 2017


+1 votes
Laos Casino & Gambling Overview
Laos Casinos & Gambling
Laos has two casinos with an internet and media presence. We know there are more including the King Romans Casino in the  Golden Triangle Special Economic Zone (SEZ) Ton Pheung District, Bokeo Province. The SEZ began development in the early 2000's and now contains the King Romans Casino, an international border checkpoint, several hotels and a Chinatown market with as many as 70 shops and restaurants.


The Kings Romans Casino is just one of the long-term projects under the Laos-China agreement that created the SEZ . All of the businesses are owned by Chinese investors who hold a 99 year lease on the properties they develop, and have to pay no taxes. Upon the expiration of these special leaseholds, all properties in the SEZ will be handed over to the Laotian government.
The casinos and gambling games of Laos
The Dansavanh Nam Ngum Resort Casino is located about 60 km north of  Vientiane in the Buffalo Mountain range on Dansavanh Lake. A true resort casino, Dansavanh offers one of the finest golf courses in the country, watersports on the lake, a luxury hotel, entertainment venues, and fine dining opportunities. The casino floor itself is rather small at just 6,500 square feet, but they pack a lot of games into that area including 150 Slot machines, a Sportsbook, Blackjack, Roulette, Baccarat,  Caribbean Stud Poker, Electronic Roulette, and Tai Sai for a total of 60 table games.
Savan Vegas Hotel & Casino is located in Savannakhet Province near the Thai border and was the first 5-star hotel and casino entertainment destination in the country. The casino floor here is much larger than Dansavanh at over 50,000 square feet and offers about 500 slot and video gaming machines along with 80 table games. The hotel itself offers luxury amenities such as a spa and fitness center, a Grand Stage Lounge, and multiple fine dining options.
Laos Casinos and Gambling in  Summary
ALthough we hear rumors and even see pictures of many casinos scattered along the borders of Laos we only find three that we can say with any certainty would be there were you to plan a trip, or diversion to gamble in Laos.  The country is bordered by Myanmar, Thailand, and China and gambling is officially illegal in the two most populous countries. Thais travel freely across the border without undue immigration problems, and the newfound wealth of the upper class Chinese who wish to gamble somewhere other than Macau, bring hordes of them into the country.

The Laotian government has struggled with accepting casino development and we don't foresee any new casinos being built outside of the SEZ, as there have been official statements to this effect. For now and the foreseeable future, globetrotting gamblers have three "safe and sane" options in Laos in the casinos we have reviewed here.
If you have any questions, comments, or knowledge to add for our readers, please feel free to drop a note in the blue Laos Forum box below. There is no need to register an account (you may post as a Guest) but we appreciate all who join our discussions.
Casinos and Gambling Facts
Laos is a country in East Asia with legal gambling. There are 3 cities with gambling facilities in Laos which have 3 legal gambling facilities available in total.

The types of gambling available in Laos are: casinos, sportsbetting parlours.

The largest gambling city in Laos is Savannakhet with 1 gambling facilities, 80 tables games, 500 gaming, slot, and video poker machines.
The largest casino in the entire country of Laos is Savan Legend Hotel & Casino which is located in Savannakhet. Savan Legend Hotel & Casino has 80 table games, 500 gaming and video poker machines.
Laos Casino List
Casino

Sportsbook

Slot Machines

: 150

Table Games

: 60
Casino

Sportsbook

Slot Machines

: 150

Table Games

: 60
Casino

Sportsbook

Slot Machines

: 500

Table Games

: 80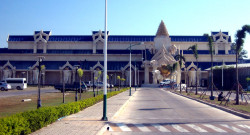 Laos Casino Statistics
Newest casinos
Jan 1


2009

Savannakhet, Laos