North America Gambling & Parimutuel
| | |
| --- | --- |
| Countries w/ gambling | 3 |
| Cities with gambling | 1,139 |
| Total casinos | 2,382 |
| Gaming tables | 28,133 |
| Slot machines | 983,205 |
| Poker rooms | 621 |
| Sportsbooks | 388 |
| Bingo halls | 497 |
| Horse tracks | 181 |
| Greyhound tracks | 30 |
| Lotteries | 140 |
North America Gambling & Parimutuel
Friday Aug 23rd, 2019
North American Pari-mutuel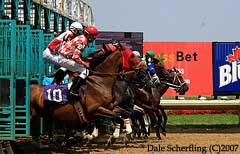 Flip through the tabs above to get information on Thoroughbred Horse Racing, Harness Racing, Greyhound Racing and Jai Alai in North America.
The parimutuel system is used in gambling on horse racing, greyhound racing, jai alai, and all sporting events of relatively short duration in which participants finish in a ranked order. A modified parimutuel system is also used in some lottery games.
Sports betting is covered in another section although it is listed under, and indeed in some instances is, pari-mutuel gambling.
Read our general articles on: World Horse Racing, Grehound Racing, Jai Alai, or visit the pari-mutuel section of our website for our complete guide.
Horse Racing in North America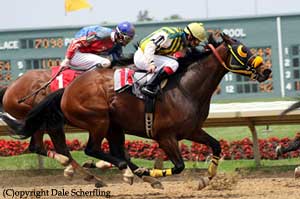 Horse racing may have come to the USA far later than some other continents but it is still steeped in history and has some of the most famous classics in world horse racing.
The famous "Triple Crown" consists of the Kentucky Derby, Preakness Stakes and Belmont Stakes. The Triple Crown starts with the Kentucky Derby on the first Saturday of May. The Preakness follows two weeks later. The Belmont Stakes is five weeks after the Kentucky Derby in early June. In the U.S., the term "Triple Crown" is the usual reference for these three horse races unless another sport is specified. Canada also has a "Triple Crown" of the Queens Plate, Prince of Wales Stakes and the Breeders Stakes which are all run in July and August.
There are 59 thoroughbred race tracks in the USA. In all, harness and thoroughbred racing at pari-mutuel tracks can be found in 31 states. Six tracks conduct both harness and thoroughbred meets.
In Canada all racing is overseen by the Canadian Pari-Mutuel Agency (CPMA), it lists 37 tracks in its membership, and also covers horse racing in, Alberta, British Colombia, Manitoba, Ontario, Quebec, Saskatchewan, New Foundland and Labrador, and the Maritime provinces. Canadian harness racing is more popular than thoroughbred and as big as any where in the world. All provinces are home to at least one major track. Ontario has a massive sixteen race tracks while Quebec hosts four and New Brunswick three.
Barrel Racing: two of a very few countries that host barrel racing are Canada and the USA and information can be found at the http://www.nbha.com National Barrel Horse Association.
Greyhound Races in North America
Greyhounds and greyhound racing date back to the time of the Pharaohs and we will cover this in much more detail in on our history of gambling sections. It was as far back as the mid 1800's when greyhounds traveled to the States, they were brought over primarily to control the millions of pesky jackrabbits, with appetites capable of destroying the small farmers' cash crops. In 1886 the first formal coursing meet in America was held at Cheyenne Bottoms, near Great Bend, Ks. It was a huge success, attended by visitors from New York, Chicago, Los Angeles, Denver, Minneapolis and other places. The event was covered in Harpers Weekly. Soon after the American Course Board, a counterpart to England's National Coursing Club was founded.
Greyhound racing has come a long way since 1886 and after an explosion of interest and track building during the 20's and 30's the American Greyhound Track Operators Association (AGTOA) was formed in 1946. As of 2007 there are now 38 Greyhound tracks in 13 states. Greyhound ownership is very strictly regulated by the National Greyhound Association (NGA), which was founded in 1906 as the industry's official registry. Persons who own a racing or breeding greyhound must register with the NGA. They must agree to accept full responsibility for their greyhound's welfare at all times, or face severe consequences, including possible expulsion from the association. Such expulsion effectively means permanent banishment from participation in greyhound racing throughout the U.S.
Jai Alai Pari-Mutuel North America
Jai Alai came to the New World in Havana 1902, it soon spread to North America. The first jai-alai fronton in America was built in St. Louis, MO during the 1904 World's Fair. It opened on May 15.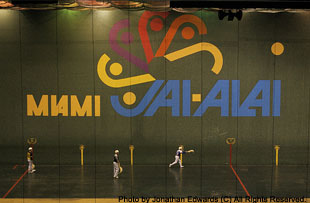 However, after only two months, the Jai-alai operations ended and the fronton later became the Winter Garden skating rink.
It was not until 1924 that first lasting Jai Alai fronton in the United States was located at the site of Hialeah Race Course near Miami. The fronton was relocated to its present site in Miami near Miami International Airport. Year round jai-alai operations include Miami Jai-Alai (the biggest in the world with a record audience of 15,502 people in 27 December 1975
North America has had many openings of closings of Jai Alai fontons and due to recent legislation changes to help keep the game alive, especially in Florida, the game is making a comeback. In Florida, which is undoubtedly the Jai Alai capital of the world, the legislature recently changed rules to help the game and as of 2007 Jai Alai pari-mutuels are now allowed to offer slot machines and even no limit poker sessions. Throughout the rest of the States these initiatives are being considered as it seems the game of Jai Alai is in terminal decline with many fontons closing due to lack of business.
By contrast, jai-alai's popularity in the north-eastern and western United States waned as other gambling options became available. Frontons in the Connecticut towns of Hartford and Milford permanently closed, while the fronton in Bridgeport was converted to a Greyhound race track. A fronton in Newport, Rhode Island, has been converted to a general gaming facility. Jai Alai enjoyed a brief and popular stint in Las Vegas, Nevada, with the opening of a fronton at the MGM Grand Hotel and Casino, however, by the early 1980's the fronton was losing money and was closed by MGM Grand owner Kirk Kekorian. The MGM Grand in Reno also showcased jai-alai for a very short period (1978-1980).
In Canada there was a brief period of popularity for the game but now you will only find the game in Quebec, where many people of Basque descent grew up.
North America Casino Listings

Complete list of North America casino in alphabetical order:
Newest Casinos
Jul 16


2019

Chatham, Ontario

Jun 23


2019

Everett, Massachusetts

Apr 30


2019

Tahlequah, Oklahoma

Apr 29


2019

Ione, California

Apr 8


2019

Cusick, Washington