Gamification… what's it all about?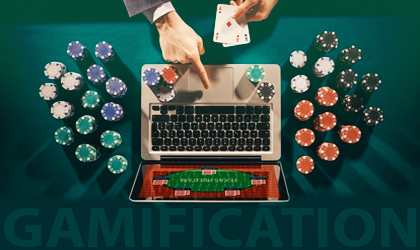 Lars Jones 01:52 Jan 9th, 2020 Games Online Gambling
Online casino players will often run across the term "gamification" or "gamified" when reading about real money internet gaming sites.
It's a strange word, and it hasn't been around very long. We'll look at its origins, meanings, and applications for online gamblers.
In a nutshell, it is simply a technique designed to get you, the user, more invested in the process of playing online casino games. 
Let's look at an example of a fictional gamified online casino.
You enter the lobby and are greeted by a narrative about a fantastic world you can participate in. There may be a backstory that you can explore that describes the characters and situations that helped shape the world.
You may be invited to create or choose an avatar, and you may be presented with a character who is just beginning their journey through the game world.
Welcome bonuses or a small amount of "loot" or other earnable virtual currency or items may be given to you when you make the first deposit.
As you play casino games, participate in tournaments, and spend time on the gaming site, certain tasks may be presented and rewards may be granted when you accomplish them. Alternatively, you may simply earn credit by the amount of your gambling turnover.
Examples of "in-game" applications
If the site happens to provide games by Yggdrasil, Radi8, or another avant-garde game developer there may be gamification built into some of the slots and even some of the table games. BOOST and BRAG are in-game promotion tools that Yggdrasil uses to gamify their titles with missions, prize drops, and other incentives, adding elements of competition and status to the otherwise uncompetitive odds-driven games like roulette. Radi8 (part of the Genesis Group) has its own built-in option called, Rad+. Features such as Radcoins, boosts, and level-ups are explained in the Radi8 Games software review.
In other words, gamification applies game-design elements and principles such as:
points

badges

leaderboards

performance tracking

avatars, and sometimes teammates...
...all couched within a meaningful story - to the user experience (UX), but not necessarily into the gambling games themselves, except in a few instances. Most gamification occurs around the games in 2020, not within them.
There is something simply irresistible about competing and tracking one's own progress, comparing it to others', and being rewarded for accomplishments.
Perhaps the most important thing to know about the technique is that it is passive science. Users can choose to engage in the added element or simply go to the casino lobby, choose any sort of gambling game, and enjoy the timeless rewards of winning money for a clever bet or a lucky spin. 
It is non-intrusive but available as a means to augment and enhance your gambling experience! 
A Brief History of Gamification
Only the word and structure are new. "Gamification" is as old as humankind. When cave people wanted to teach their children to sweep an area around the fire pit, they most likely came up with a game to make learning fun and assure the chore was completed.
When you were in school your teachers may have gamified certain tasks or activities in order to increase engagement and make learning fun.
Non-gambling social and video games have long incorporated elements of it as a means of tracking progress, challenging players, and rewarding progress.
It is simply natural for people to want to socialize, compete, express themselves, master tasks, and gain status among their peers. 
The term itself is said to have been coined in the early 2000s. Octalysis Framework creator, Yu-kai Chou is said to have created the modern concept in 2001. Other sources attribute the term to Nick Pelling, a video game developer. Merriam Webster cites 2006 as the first time the term was used in relation to "making something potentially tedious into a game".
There may be a chat room where you can interact with other players' avatars while competing against them in a tournament
There may be a leaderboard with your name and avatar visible to everyone as you fight your way to the top
You may be given missions to accomplish and earn level-ups and rewards along the way
You may see a personal progress map showing where you are currently, where you need to be, and how to get there 
The difficulty of mastering tasks may become harder as your progress and the rewards may increase significantly
There may be surprise rewards that simply appear or are found in hidden places as you go about your journey
The rewards can be incremental (progress toward a level-up) or cumulative (earned treasure chests, etc.) and can include anything from free chips and match bonuses to cash awards, comp points, extra spins, branded merchandise, or even a trip to Las Vegas or a luxury cruise.
In some scenarios, such as High Roller Casino's MetroCity, you can even 'sting' other players and take their coins!
Tip: Stings encourage players to stay active on the site. If you haven't played for five or more days, your coins can be looted from you!
Here's a blurb from Highroller:
Welcome to the Jungle
Play!
Play online casino games for real money and move forward through Metrocity districts
Loot!
Trigger Stings and loot coins from others...Exchange them in the shop for Spins and Freebies.
Level Up!
Level Up to new districts for Huuuge rewards: Free Spins, Real Money, and fill up that trophy shelf.
In other words, you will be presented with an adventure that you can choose to partake in, or simply go to the lobby and play your favorite games as if there were no gamification. The choice is yours.
Is gamification of Casinos about the user experience?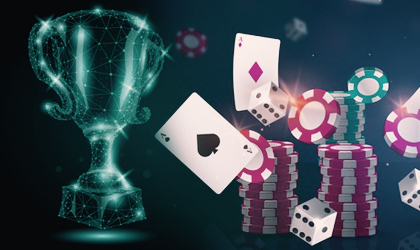 "UX", in industry jargon, is the science of design surrounding the User eXperience.
Online gambling and other digital entertainment are built around human/computer (program) interactions.
In order to fully understand gamification, we must have at least a cursory understanding of UX. After all, gamification IS a user experience.
User experience (UX) refers to the singular and cumulative experience that occurs for users as a result of them interacting with an actualized concept in any given context.
In gamification, several game dynamics and game mechanics are used to elicit emotions, drive engagement, and inspire loyalty.
These dynamics can include:
Achievement

Collaboration

Collection

Community

Competition

Exploration

Progress (emotional)

Surprise
Game mechanics are the rules and rewards which build the foundation of the UX. They are used to gamify the overall gambling process.
The 10 game mechanics are:
Points

Levels

Missions

Badges

Leaderboards

Unlocks

Events Feed

Quiz

Progress (Visual)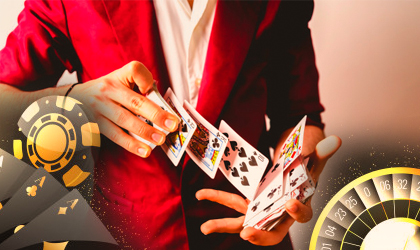 In reality, gamification is an online marketing technique that encourages users to engage with a product or service, in this case, online gambling.
Each gamified online casino has its own concept. Some are masterfully done, while others can be poorly executed.
Perhaps the theme and narrative are intriguing, but if the user interface (UI) (how you react with the site) does not properly support the UX, it will fall flat.
The theme and narrative must be crafted to attract a particular audience. Some players will prefer a high-intensity experience acutely focused on the game world. Duelz and Highroller fulfill this need. 
Others may prefer a more laid back approach like that found at Wishmaker, where nobody's going to nick your coins if you don't show up to play for a few days.
Gamification is an art and a science. A properly executed concept must be driven by player satisfaction at every turn.
Gamification FAQ
How do I know if a site is "gamified"?
You can choose from our list of the best gamification casinos online or simply look for some buzzwords or keywords on the website. Tokens, missions, levels, unlocks, leaderboards, progress, and badges are a few of the words to look for.
Does it cost anything to play at a gamified site?
Gambling for real money costs money. But, in fact, it can actually pay to play if the gamification concept and scheme are properly executed and the player is lucky. Of course, you will still need to 'put coins in the machine' or 'chips on the table', but we aren't aware of any gambling sites that charge membership fees or admission to participate.
Will they spam me if I sign up?
No, you can always opt-out of SMS or email notifications, but you might want to reconsider as some sites promote the scheme with surprise tournaments, free spins, or ongoing bonuses for those who participate fully.
Is gamification associated with problem gambling?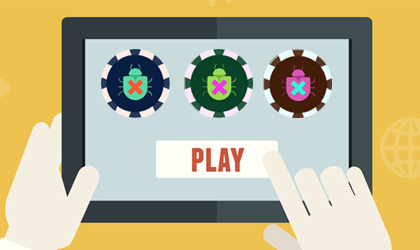 It can be. Anything that incentivizes or encourages people to play could be considered 'promotion'. Gamification is a marketing technique that is used to engage players and help them make the decision to return and build loyalty. 
Most gamified sites are also 100% responsible when it comes to how they market their products and how they make sure players remain, winners, even when they don't cash out. Look for Deposit Limits, Net Loss Limits, Wagering Limits, Session Limits, Reality Checks, Time Outs, and even Self Exclusion. If you ever experience a lack of control when gambling, please do not play at any site that doesn't offer responsible gambling tools.
Can I trade or sell tokens, coins, or other things I earn?
Most gambling sites do not allow players to exchange anything of value between themselves. The potential for collusion, money laundering, and other unsavory actions is simply too great. However, some sites may provide an exchange bin in the future where you can anonymously discard valuables and rummage for others of the same value.
Do gamified casinos have regular casino games?
Yes. The gambling experience remains the same as if there were no narrative or theme to the gaming site. Except when playing a tournament or one of the games from Yggdrasil, Kalamba, Radi8, or another developer with built-in gamification, the concept stands alone and separate from the actual casino games.
I like the idea but I'd rather just unlock levels and features inside games. Which games can I do this in?
Yggdrasil offers in-game promotional tools to all of their casino clients, so that's a good place to start. Other games to consider might be Big Time Gaming's White Rabbit with an RTP of up to 97.72% and a 'feature drop' that can be bought while playing the game. 
Microgaming's Max Damage and the Alien Attack plays like an old-school shooting game that mixes skill with random number generator rewards.
For a purely skill-based bonus round (with a randomly preselected total potential jackpot) try Rival's Hole in Won or it's the sequel, Hole in Won: The Back Nine. When you trigger the bonus you'll shoot golf for the bonus prize.
I still like the idea, but what about a virtual reality casino, or augmented reality games?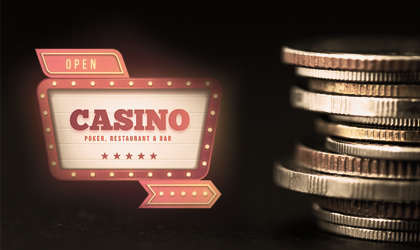 SlotsMillion has a virtual reality casino with about 40 VR games.
NetEnt released VR versions of Gonzo's Quest and Jack and the Beanstalk but they were met with a lukewarm reception from players.
Skywind offers AR versions of some of their lottery products and could have games on the horizon, but that's unclear at this point.
Unfortunately, access to affordable headsets and a (relative to the total market) slow-growing alternate reality industry seem to indicate that we won't be seeing any gamified virtual or augmented reality casinos come online anytime soon.
See also:
https://lcb.org/casinos/gamification