State of Illinois Online Lottery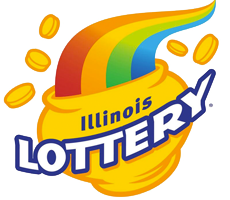 The year was 1974 and quite an exciting one for Illinoisans when it officially sells its first ticket on July 30th for the State Lottery. By December of the same year, a staggering 100,000,000th ticket was sold. It was an instant success as the public visions of a paradise lifestyle of champagne, caviar and living the good life if they won. By 1983 Illinois became the first state to guarantee a million-dollar prize. In true Chicago style, it was ironic that the bartender of the famous Billy Goat Tavern (famous for the Cubs baseball curse) was the first millionaire of the Lotto.
A significant breakthrough comes in March 2012 when officials pass a law allowing the purchase of online lottery tickets, the first state in the country. Revenues contribute to the public-school system, roads, bridges and capital projects for Illinois.
Types of Lottery Tickets
$1 Jackpot Games
Lotto – starting at $2 million featuring Extra Shot for $1 more and 6 extra chances to win
Mega Millions – starting at $15 million every Tuesday and Friday
Powerball – starting at $40 million it is a national ticket price
Lucky Day Lotto – starting at $100,000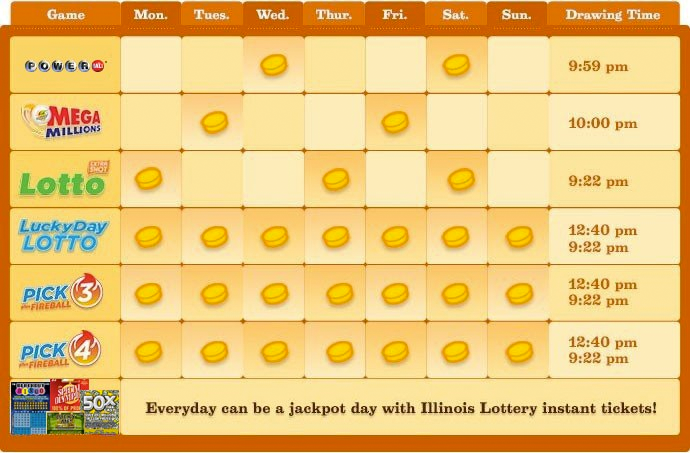 Daily Games
Pick 3 and Pick 4 at 12:40pm and 9:22pm CST
Instant Games
Win instant prizes with these scratch off games. Choose from New Instants, Features Instants and:
Featured Games
Million $$ Match top prize $5,000,000 ticket price $30
Roulette top prize $250,000
Neon 9s top prize $999 ticket price $1
Multiplier Family purchase $1 5x for $2,000, $2 10x for $20,000, $5 25x for $25,000, $10 50 x for $ 2,000,000 and $20 100x for $4,000,000
Jumbo Bucks – purchase price $5 for $1,000,000, $10 for $2,000,000, $20 for $3,000,000
Specialty Games for Charity with ticket prices ranging from $1 to $30
Red Ribbon Cash contributed over $7 million since 2008 to fight HIV/AIDS
Veterans Cash contributed $13.3 million for Veteran organizations in Illinois since 2006
Ticket for the Cure contributed $11.5 million to breast cancer research and grants since 2006
MS Project $8.3 million going towards multiple sclerosis in Illinois since 2008
Special Olympics donated over $1.5 million for sports training programs since 2015
How to Play
Choose from the list of Lottery tickets first before registering an account

Pick your own numbers or "Quick Pick" automated generated numbers

Choose the number of draws to play from 1 day to multiple weeks
Add to cart
Add another game or click "Check Out"

Register an account or "Quick Checkout" as a guest

Fill in your personal information
Accept terms and conditions
Enter debit/credit for payment

A receipt is then printed for each drawing
All winning tickets over $600 or less will be paid by automatic deposit. The Illinois Lottery processes all winnings over $600 and an email will be sent to explain how to claim.
Top World Lotteries
| | | | | |
| --- | --- | --- | --- | --- |
| | Powerball | $160,000,000 | VIEW DETAILS &gt | Tickets |
| | Euro Millions | €89,000,000 | VIEW DETAILS &gt | Tickets |
| | SuperEnalotto | €51,000,000 | VIEW DETAILS &gt | Tickets |
| | Lotto Max | CA$65,000,000 | | |
| | Mega Millions | $45,000,000 | VIEW DETAILS &gt | Tickets |
| | SuperLotto Plus | $33,000,000 | VIEW DETAILS &gt | Tickets |
| | FDJ Loto | €20,000,000 | VIEW DETAILS &gt | Tickets |
| | Lotto | €19,000,000 | VIEW DETAILS &gt | Tickets |
| | Classic Lotto | $16,500,000 | | |
| | Lotto 6/49 | CA$17,000,000 | VIEW DETAILS &gt | Tickets |
| | Vikinglotto | €11,800,000 | VIEW DETAILS &gt | |
| | Mega Sena | R$59,000,000 | | Tickets |
| | Eurojackpot | €10,000,000 | | |
| | Lotto Texas | $9,000,000 | VIEW DETAILS &gt | |
| | The Pick | $8,200,000 | VIEW DETAILS &gt | |
| | Melate | MXN160,800,000 | | |
| | Lotto | $7,300,000 | VIEW DETAILS &gt | Tickets |
| | Swiss Lotto | CHF5,700,000 | VIEW DETAILS &gt | |
| | El Gordo | €5,400,000 | | Tickets |
| | Powerball | AU$8,000,000 | VIEW DETAILS &gt | Tickets |
| | Megabucks | $5,500,000 | VIEW DETAILS &gt | |
| | Megabucks Doubler | $5,200,000 | VIEW DETAILS &gt | |
| | Powerball | R77,000,000 | | |
| | Lotto | $3,600,000 | VIEW DETAILS &gt | |
| | Saturday Lotto | AU$5,000,000 | VIEW DETAILS &gt | |
| | Jumbo Bucks Lotto | $3,400,000 | | |
| | La Primitiva | €3,100,000 | VIEW DETAILS &gt | Tickets |
| | Powerball | NZ$5,000,000 | | |
| | Lotto | $3,000,000 | VIEW DETAILS &gt | Tickets |
| | Pick 6 | $2,500,000 | VIEW DETAILS &gt | |
| | Lotto | £2,000,000 | | Tickets |
| | Powerball Plus | R38,000,000 | | |
| | Lotto 6aus49 | €2,000,000 | | Tickets |
| | Lotto | $2,000,000 | VIEW DETAILS &gt | |
| | Lotto | $2,000,000 | VIEW DETAILS &gt | |
| | Megabucks Plus | $1,625,000 | VIEW DETAILS &gt | |
| | Ontario 49 | CA$2,000,000 | | |
| | BC 49 | CA$2,000,000 | VIEW DETAILS &gt | |
| | Quebec Max | CA$2,000,000 | | |
| | Quebec 49 | CA$2,000,000 | VIEW DETAILS &gt | |
| | Western Max | CA$2,000,000 | | |
| | Lotto | $1,400,000 | VIEW DETAILS &gt | |
| | Oz Lotto | AU$2,000,000 | VIEW DETAILS &gt | Tickets |
| | Lotto | $1,300,000 | VIEW DETAILS &gt | |
| | Hoosier Lotto | $1,200,000 | VIEW DETAILS &gt | Tickets |
| | Classic Lotto 47 | $1,100,000 | VIEW DETAILS &gt | Tickets |
| | Daily Million 2PM | €1,000,000 | | |
| | Daily Million 9PM | €1,000,000 | | |
| | Bank a Million | $1,000,000 | | |
| | Gimme 5 | $1,000,000 | | |